Volume 50, Issue 09 (February)
Volume 50, Issue 09 (February 1999)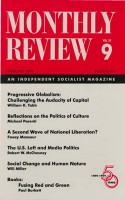 February 1999 (Volume 50, Number 9)
Back in December, while the January issue was going to press, the U.S. and Britain were bombing Iraq, and Congress was impeaching Bill Clinton. Our publication schedule spares us the temptation to say the first thing that comes into our heads when a major news story breaks. But sober reflection hasn't changed our first reaction: if Clinton were being impeached for bombing Iraq, it wouldn't be hard to support his removal from office—though if all U.S. presidents were fired for their imperialist adventures, impeachment would now be as normal and regular a political event as election … | more |
Challenging the Audacity of Capital
I will address some aspects of globalization in our time and what they mean for working people. I will start with some general definitions and suggest that the most significant features of what is called globalization have always been part of capitalist development, even if the forms are different in different periods (including our own). I will then discuss the arrogance of capital as it tries to remake our world in its preferred image. In this regard, I will contrast U.S. initiatives in the area of labor standards with worker demands for labor rights. I will then consider the institutions of an internationalized capitalist regime, which seeks to impose itself using vehicles such as the International Monetary Fund and the proposed Multilateral Agreement on Investment. Finally, I will talk about resistance … | more |
Reflections on the Politics of Culture
In the academic social sciences, students are taught to think of culture as representing the customs and mores of a society, including its language, art, laws, and religion. Such a definition has a nice neutral sound to it, but culture is anything but neutral. Much of what is thought to be our common culture is the selective transmission of class-dominated values. Antonio Gramsci understood this when he spoke of class hegemony, noting that the state is only the "outer ditch behind which there [stands] a powerful system of fortresses and earthworks," a network of cultural values and institutions not normally thought of as political… | more |
A Second Wave of National Liberation?
Not so long ago, the United Nations Conference on Trade and Development (UNCTAD) promoted a semi-official series of meetings (national, regional, and tri-continental), in preparation for its periodic international plenary conferences. UNCTAD was then the UN agency most seriously concerned with problems of third-world development as they related to international economic relations. The preparatory meetings had the double aim of engaging as many third-world officials, academics, and practitioners as possible in a serious dialogue on these problems, and mobilizing as much public opinion behind the proposed solutions as it could. The second aim was as important as the first, since those solutions, more often than not, ran up against fierce first-world opposition … | more |
The U.S. Left and Media Politics
American democracy is in deep trouble. Cynicism and distrust of the political system, fueled at least in part by imposed ignorance, have grown steadily in recent years. There are several reasons for this, but few as important as the condition of our media. Many Americans, especially those on the left, know that after a generation of rampant consolidation and conglomeration, the American media are dominated by less than twenty firms—and that a half-dozen or so corporate giants hold the commanding positions. These firms use their market power to advance their own and other companies' corporate agendas. And they increasingly commercialize every aspect of our culture. By any known theory of political democracy, this tightly-held media system, accountable only to Wall Street and Madison Avenue, is a poisonous proposition … | more |
Social Change and Human Nature
When radical social change is mentioned, apologists for present practice take a philosophical turn. In nearly every discussion of social alternatives to market capitalism, defenders of the marketplace appeal to their own conception of human nature as the final explanation of the predatory competitiveness of our age of waste and greed. We are quickly assured that the ever more unsatisfying and dangerous exploitation of our natural and social environment is an inevitable consequence of our human nature … | more |
James O'Connor, Natural Causes: Essays in Ecological Marxism (New York: Guilford, 1998), 350 pp., $19.95, paper.
One of the foremost Marxist social scientists in the United States, James O'Connor has produced many original insights into the political economy of the United States, and global capitalism. His Fiscal Crisis of the State (1973) revealed the structural roots of government deficit problems, and his subsequent work has focused on the development of a general theory of capitalist crisis. In Accumulation Crisis (1984) and The Meaning of Crisis (1987), he surveyed and synthesized alternative viewpoints on the economic, political, cultural and psychological crisis tendencies of late-twentieth century capitalism. Since 1988, when he co-founded the innovative "eco-Marxist" quarterly Capitalism, Nature, Socialism, O'Connor has expanded his vision of capitalist crisis and socialist movements to incorporate natural conditions more fully. Natural Causes gathers together O'Connor's major writings over this last period, providing an excellent opportunity to assess his considerable contribution to eco-Marxist theory and practice … | more |