Volume 53, Issue 04 (September)
Volume 53, Issue 04 (September 2001)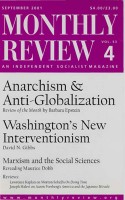 September 2001 (Volume 53, Number 4)
The Economist (June 23, 2001) contained an item that we thought would interest and amuse MR readers. Under the title "More Tomatoes, Please," it humorously observed: It's tough being a world leader these days. Once upon a time, you could meet a couple of your counterparts in some pleasant seaside town, forge a union or divide a continent over dinner, and then issue a grateful public with a photograph and a communiqué….… | more |
Anarchism and the Anti-Globalization Movement
Many among today's young radical activists, especially those at the center of the anti-globalization and anti-corporate movements, call themselves anarchists. But the intellectual/philosophical perspective that holds sway in these circles might be better described as an anarchist sensibility than as anarchism per se. Unlike the Marxist radicals of the sixties, who devoured the writings of Lenin and Mao, today's anarchist activists are unlikely to pore over the works of Bakunin. For contemporary young radical activists, anarchism means a decentralized organizational structure, based on affinity groups that work together on an ad hoc basis, and decision-making by consensus. It also means egalitarianism; opposition to all hierarchies; suspicion of authority, especially that of the state; and commitment to living according to one's values. Young radical activists, who regard themselves as anarchists, are likely to be hostile not only to corporations but to capitalism… | more |
Marxism and the Social Sciences
I should like to begin by saying something about the intellectual climate in which Marx's thought was reared; since a doctrine generally appears more clearly delineated when it is contrasted with other contemporary doctrines or with ideas in critique of which the doctrine was born… | more |
Morton Sobell, On Doing Time (San Francisco: Golden Gate National Parks Association, 2001), 416 pages and CD-ROM, $15.95 paper.
When the Rosenbergs received the death penalty for what J. Edgar Hoover called "the crime of the century," Morton Sobell was sentenced to a term of thirty years. A second edition of On Doing Time, his memoir of one of the most controversial cases in U.S. legal history, is now published in paperback by the Golden Gate National Parks Association. Included with this new edition is an exciting CD-ROM containing selections from Sobell's partially released FBI file, as well as a new preface and additional photographs. His lawyer, the late Marshall Perlin, fought over the course of more than twenty-five years to obtain the files under the Freedom of Information Act. They provide important supplementation to the book.… | more |
U.S. Militarism and Imperialism and the Japanese "Miracle"
Aaron Forsberg, America and the Japanese Miracle: The Cold War Context of Japan's Postwar Economic Revival, 1950-1960(Chapel Hill and London: University of North Carolina Press, 2000), 332 pages, $45.
Historical research on postwar Japan and East Asia has produced a number of high quality studies that have contributed to the formation of a political and economic perspective not too distant from the Monthly Review conception of the transformation of modern capitalism. These works point out that the conditions for Japanese economic recovery were found not only in the willingness of Japan's capitalist elites to reignite the process of industrial accumulation, but also in the propulsive role played by military spending and by actual wars.… | more |