Volume 54, Issue 02 (June)
Volume 54, Issue 02 (June 2002)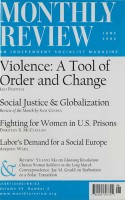 June 2002 (Volume 54, Number 2)
In the May issue of MR, we published an article by James Petras, written in March, entitled "The U.S. Offensive in Latin America." The article raised the issue of an impending military coup in Venezuela, then being actively promoted by Washington, aimed at replacing the democratically elected president Hugo Chávez with what the Bush administration had already been publicly calling a "transitional government" (or, as Petras termed it, a "transitional civic-military junta"). "Washington," Petras wrote, "is implementing a civil-military approach to overthrow President Chávez in Venezuela….U.S. strategy is multiphased and combines media, civic, and economic attacks with efforts to provoke fissures in the military, all aimed at encouraging a military coup." The object of the coup, from Washington's standpoint, was threefold: to regain control of Venezuela's oil industry which accounts for 15 percent of U.S. oil imports, to eliminate the indirect support that Venezuela has been giving to guerrillas in Colombia and to insurgent forces in Ecuador, and to put an end to Chávez's attempt to break away from the imperialistic network—Venezuela's step toward independence… | more |
Social Justice and Globalization: Are they Compatible?
In a speech in 1999, Henry Kissinger, secretary of state under Presidents Nixon and Ford, candidly remarked that "globalization" is another term for U.S. domination.1 Such clarity tends, in itself, to negatively answer the question posed in the title of this talk. How can anyone argue that U.S. domination—or using the less polite term, "U.S. imperialism"—is compatible with social justice? … | more |
Violence as a Tool of Order and Change
The War on Terrorism and the Antiglobalization Movement
September 11, it is said, has changed everything. However true or not this may be—and I tend to think that it is not very true at all—one thing it certainly should have changed is the loose manner in which the adjective "violent" has been appended to recent antiglobalization protests. Especially for a conference such as this one—conceived in the wake of the Québec City events of last year and designed to shed light on the nature of the challenge posed to capitalist democracies by the new antiglobalization movement—the horrific and deadly terrorist attack on New York and Washington, D.C., and the scale of state violence unleashed—literally from on high—by the war on terrorism, certainly put this loose usage in stark perspective… | more |
Between Barbarism and a Solar Transition
John Bellamy Foster's brilliant review, "Monopoly Capital and the New Globalization" (Monthly Review, January 2002), demonstrates how monopoly capitalism has reached its current crisis, one in which all the contradictions of imperialist domination and the worldwide lack of effective demand are now leading toward the stark choice between a "deadly barbarism or a humane socialism"… | more |
Helen Praeger Young, Choosing Revolution: Chinese Women Soldiers on the Long March (Urbana and Chicago: University of Illinois Press, 2001) 282 pages, $35, hardcover.
Coming of age in the new China, I heard and read abundant stories about the 25,000 li Long March. Films, plays, and operas during the first two decades of the People's Republic showed the heroic deeds performed by the Red Army soldiers as well as the bravery and tenacity they displayed in their fight against the Nationalist enemy, local despots and bandits, and in overcoming the unimaginable hardships on the march, especially when they crossed the grasslands and climbed over the snow mountains. Those are great stories, touching, inspiring, and educating. Yet, they sometimes seem so far away and unattainable… | more |