Volume 55, Issue 09 (February)
Volume 55, Issue 09 (February 2004)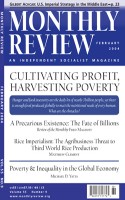 February 2004 (Volume 55, Number 9)
This year marks the 10th anniversary of the death of Ralph Miliband, who was one of the leading Marxist political theorists of the second half of the 20th century. His works, Parliamentary Socialism (1961), The State in Capitalist Society (1969), and Marxism and Politics (1977) are classics of socialist political analysis. This year is also the 40th anniversary of The Socialist Register, an annual journal that Miliband cofounded and coedited for 30 years… | more |
A Precarious Existence: The Fate of Billions?
The number of people living a precarious existence has been increasing in many countries of the world, with hunger all too widespread. There are approximately 6 billion people in the world, with about half living in cities and half in rural areas. Between the poor living in cities and those in rural areas, a vast number of the world's people live under very harsh conditions. It is estimated that that about half of the world's population lives on less than two dollars per day, with most of those either chronically malnourished or continually concerned with where their next meal will come from. Many have no access to clean water (1 billion), electricity (2 billion), or sanitation (2.5 billion)… | more |
Rice Imperialism: The Agribusiness Threat to Third World Rice Production
Food is an essential human need. All cultures involved in settled agriculture have produced food and food production is basic to all culture. The seed used in agricultural cultivation is the product of thousands of years of cultural development. Most of this development of food crops over the millennia has occurred in regions that are now in the periphery of the capitalist world economy. In recent years, however, agribusiness corporations located in the rich nations of the core have attempted to patent various forms of food crops, such as basic grains, and then to monopolize these patented grain varieties, creating dependence on seeds of the agribusiness corporations. When such practices involve, as in recent years, a crop such as rice on which much of the world's population depends for subsistence, the implications are enormous and potentially disastrous for the world's poor… | more |
Poverty and Inequality in the Global Economy
Capitalism is hundreds of years old and today dominates nearly every part of the globe. Its champions claim that it is the greatest engine of production growth the world has ever seen. They also argue that it is unique in its ability to raise the standard of living of every person on earth. Because of capitalism, we are all "slouching toward utopia,"—the phrase coined by University of California at Berkeley economist J. Bradford DeLong—slowly but surely heading toward a world in which everyone will have achieved a U.S.-style middle-class life… | more |
Tara Herivel and Paul Wright, editors Prison Nation: The Warehousing of America's Poor (New York: Routledge, 2003), 256 pages, cloth $80.00, paper $19.95.
I sit in the day room/lobby waiting to be released for lunch. I read a novel in which one character, a Pole, comments to another that the Germans consider Poles to be untermenschen, subhuman. I look at the women around me: Latinas arguing among themselves in Spanish; a black woman making signals to someone I don't see; two white women—one of whom is stringing beads—are murmuring together. Two of these women are here because they are undocumented workers; three are incarcerated for economic offenses; the other is falsely convicted; all of us are caught inside the nightmare of an oppressive state and an expanding empire. Instead of storm trooper boots and brown shirts, those who command wear Tony Lamas cowboy boots, expensive suits, and ties—men who see in the U.S. prison establishment ways to both intensify control of the population and squeeze more profits out of late-stage capitalism… | more |
Manufacturing the Love of Possession
Michael Dawson, The Consumer Trap: Big Business Marketing in American Life (Champaign: University of Illinois Press, 2003), 203 pages, cloth $26.95.
In 1877, speaking at the Powder River Conference, Chief Sitting Bull of the Lakota nation said of the European invaders who were destroying his people and their way of life, "[T]he love of possession is a disease with them." Disease is an apt term, because it does not necessarily imply that the love of possession was inherent in the nature of the invaders, but rather that the affliction may have been acquired. Thus, any scholar wishing to locate the origin of the affliction should, like an epidemiologist, search out its sources and possible transmission vectors… | more |