Volume 57, Issue 11 (April)
Volume 57, Issue 11 (April 2006)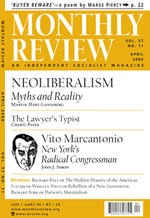 Notes from the Editors, April 2006
» Notes from the Editors
As we write this in late February, threats of a U.S. military intervention in Iran are intensifying in response to Washington's claims that Iran is attempting to develop nuclear weapons capabilities. The International Atomic Energy Agency has voted to take the issue of what it views as Iran's noncompliance with the Nuclear Nonproliferation Treaty Safeguards Agreement to the United Nations Security Council in early March. Meanwhile, the Bush administration has repeatedly stated that a military strike against Iran by the United States is now "on the table." Washington's waving of its big stick coupled with its feeding of misinformation to a U.S. media system that has not hesitated to pass these distortions on to the general public have already had their effect. A Los Angeles Times/Bloomberg poll taken in January indicated that "57% of Americans favor military intervention if Iran's Islamic government pursues a program that could enable it to build nuclear arms" (Los Angeles Times, January 27, 2006). A few days later President Bush declared in his State of the Union address that "the Iranian government is defying the world with its nuclear ambitions, and the nations of the world must not permit the Iranian regime to gain nuclear weapons. America will continue to rally the world to confront these threats."… | more |
Neoliberalism: Myths and Reality
Agreements like the North American Free Trade Agreement (NAFTA) and the World Trade Organization (WTO) have enhanced transnational capitalist power and profits at the cost of growing economic instability and deteriorating working and living conditions. Despite this reality, neoliberal claims that liberalization, deregulation, and privatization produce unrivaled benefits have been repeated so often that many working people accept them as unchallengeable truths. Thus, business and political leaders in the United States and other developed capitalist countries routinely defend their efforts to expand the WTO and secure new agreements like the Free Trade Area of the Americas (FTAA) as necessary to ensure a brighter future for the world's people, especially those living in poverty… | more |
The Hidden History of the Americas
Charles C. Mann, 1491: New Revelations of the Americas before Columbus (New York: Alfred A. Knopf, 2005), 480 pages, hardcover $30.00.
Countless, almost perfectly round, forested islands dot the remote, watery plain of the Beni in eastern Bolivia. A millennium ago the islands were linked by causeways, parts of an intricate landscape management system tended by thousands of highly organized workers. These mounds do not have their origins in geo-morphological forces, but originate instead in human logic, in anthro-morphology. For even simple excavation reveals that they are built from broken pottery. Each pile, and there are hundreds, is larger than Monte Testaccio, a hill of broken pots southeast of classical Rome, serving as a garbage dump for the imperial city. Simply extending from the volume of ceramics piled on the Beni suggests that the plain was home to a highly structured society. Beginning three thousand years ago, an Arawak-speaking people created a civilization that, at its height, was populated by a million people walking the causeways wearing "long cotton tunics, [with] heavy ornaments dangling from their waists and necks" (12). The Beni was one of humankind's greatest works of landscape artistry. Yet it was unknown until recently even by its contemporary inhabitants, the Siriono. For the builders of the mounds and the caretakers of the dikes disappeared just before the Spanish invaders arrived. Its discovery awaited Bill Deneven, a geography graduate student at the University of California, Berkeley, who flew over the area in 1961 and was astonished to see great regularities in the landscape that could only be human in origin… | more |
Dan Berger, Chesa Boudin, and Kenyon Farrow, eds., with preface by Bernardine Dohrn, Letters from Young Activists: Today's Rebels Speak Out (New York: Nation Books, 2005), 256 pages, paperback $14.95.
One frequently comes across handwringing articles in the mainstream media decrying the supposed apathy of my generation. Too often these are written by older liberals, nostalgic for their own bygone days of protest (and forgetful of the years of small-scale organizing that led to the social upheaval of those days). Sometimes they are written by young people, who believe themselves alone in their dissent. Ironically, these lamentations never seem to recognize what those of us who are involved in social movements today can see quite clearly: that there is a growing sense among many young people that something is deeply wrong with the society we live in—and more and more, that such knowledge comes with the desire to take a stand… | more |
Rebel in the House: The Life and Times of Vito Marcantonio
Vito Marcantonio was the most consequential radical politician in the United States in the twentieth century. Elected to Congress from New York's ethnically Italian and Puerto Rican East Harlem slums, Marcantonio, in his time, held office longer than any other third-party radical, serving seven terms from 1934 to 1950. Colorful and controversial, Marcantonio captured national prominence as a powerful orator and brilliant parliamentarian. Often allied with the U.S. Communist Party (CP), he was an advocate of civil rights, civil liberties, labor unions, and Puerto Rican independence. He supported social security and unemployment legislation for what later was called a "living wage" standard. And he annually introduced anti-lynching and anti–poll tax bills a decade before it became respectable. He also opposed the House Un-American Activities Committee, redbaiting, and antisemitism, and fought for the rights of the foreign born. He was a bold outspoken opponent of U.S. imperialism… | more |