Volume 59, Issue 01 (May)
Volume 59, Issue 01 (May 2007)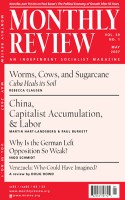 May 2007 (Volume 59, Number 1)
Recent attempts, however tentative, by Congressional Democrats to establish a timetable for the withdrawal of U.S. combat forces from Iraq should be looked upon as a victory for the antiwar movement. Not only is the Democratic Party clearly aware that its current congressional majority was the result of popular dissatisfaction with the war, but nationwide antiwar rallies have recently driven the point home. Under these circumstances, the Democrats had no choice but to challenge administration policy on the war. However, it would be a grave mistake to conclude from this that the political establishment in the United States is severely split on the question of imperialism, or that the Democratic Party is shifting towards a general anti-imperialist stance. Recent attempts, however tentative, by Congressional Democrats to establish a timetable for the withdrawal of U.S. combat forces from Iraq should be looked upon as a victory for the antiwar movement. Not only is the Democratic Party clearly aware that its current congressional majority was the result of popular dissatisfaction with the war, but nationwide antiwar rallies have recently driven the point home. Under these circumstances, the Democrats had no choice but to challenge administration policy on the war. However, it would be a grave mistake to conclude from this that the political establishment in the United States is severely split on the question of imperialism, or that the Democratic Party is shifting towards a general anti-imperialist stance… | more |
Paul Baran's Political Economy of Growth After Fifty Years
The concept of the imperialist world system in today predominant sense of the extreme economic exploitation of periphery by center, creating a widening gap between rich and poor countries, was largely absent from the classical Marxist critique of capitalism. Rather this view had its genesis in the 1950s, especially with the publication fifty years ago of Paul Baran's Political Economy of Growth. Baran's work helped inspire Marxist dependency and world system theories. But it was the new way of looking at imperialism that was the core of Baran's contribution. A half-century later it is important to ask: What was this new approach and how did it differ from then prevailing notions? What further changes in our understanding of imperialism are now necessary in response to changed historical conditions since the mid-twentieth century?… | more |
China, Capitalist Accumulation, and Labor
Most economists continue to celebrate China as one of the most successful developing countries in modern times. We, however, are highly critical of the Chinese growth experience. China's growth has been driven by the intensified exploitation of the country's farmers and workers, who have been systematically dispossessed through the break-up of the communes, the resultant collapse of health and education services, and massive state-enterprise layoffs, to name just the most important "reforms." With resources increasingly being restructured in and by transnational corporations largely for the purpose of satisfying external market demands, China's foreign-driven, export-led growth strategy has undermined the state's capacity to plan and direct economic activity. Moreover, in a world of competitive struggle among countries for both foreign direct investment and export markets, China's gains have been organically linked to development setbacks in other countries. Finally, China's growth has become increasingly dependent not only on foreign capital but also on the unsustainable trade deficits of the United States. In short, the accumulation dynamics underlying China's growth are generating serious national and international imbalances that are bound to require correction at considerable social cost for working people in China and the rest of the world.… | more |
As John Bellamy Foster explained in "The Ecology of Destruction" (Monthly Review, February 2007), Marx explored the ecological contradictions of capitalist society as they were revealed in the nineteenth century with the help of the two concepts of metabolic rift and metabolic restoration. The metabolic rift describes how the logic of accumulation severs basic processes of natural reproduction leading to the deterioration of ecological sustainability. Moreover, "by destroying the circumstances surrounding that metabolism," Marx went on to argue, "it [capitalist production] compels its systematic restoration as a regulating law of social reproduction"—a restoration, however, that can only be fully achieved outside of capitalist relations of production … | more |
The Left Opposition in Germany: Why Is the Left So Weak When So Many Look for Political Alternatives?
The Christian-Democratic Union (CDU) is experiencing right now what the Social-Democratic Party (SPD) had to learn after the accession to power of a Red-Green Coalition in 1998: People's parties are elected because they promise to reconcile the interests of businesses, working people, and the receivers of any sort of social assistance. They lose approval if they pursue policies that one-sidedly benefit the corporate sector. Although cabinet ministers occasionally bemoan the exorbitant salaries received by top managers and the unpatriotic behavior of a company that decides to relocate, most voters do not fail to notice that such company policies are encouraged by a politically driven redistribution of income in favor of profits. People who expected more socially oriented policies from the CDU are turning away from that party, but only some are turning toward the SPD. The latter gained somewhat in recent polls and was able to win state elections in Berlin and Mecklenburg-Western Pomerania, but it still is nowhere near its former approval rates. Moreover, the relative distribution of votes hides the absolute decline in voter turnout… | more |
Venezuela: Who Could Have Imagined?
Michael A. Lebowitz, Build It Now: Socialism for the Twenty-First Century (New York: Monthly Review Press, 2006), 127 pages, paperback, $14.95.
This short work consists of two parts: analytical and programmatic. The analytical emphasis is upon the most important crime of capitalism: namely–its dependence upon alienation/dehumanization… | more |