Volume 64, Issue 04 (September)
Volume 64, Issue 04 (September 2012)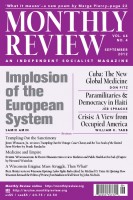 September 2012 (Volume 64, Number 4)
» Notes from the Editors
Last May President Obama signed a proclamation establishing the "Commemoration of the 50th Anniversary of the Vietnam War," meant to last for thirteen years, from Memorial Day 2012 to Veterans Day 2025, and to be conducted by the U.S. Department of Defense. A few days later, on Memorial Day, Obama gave a speech…. [declaring] that the Vietnam War represented a "national shame, a disgrace that should never have happened." But the "national shame" to which he referred was not due to the deaths of several million people, nor atrocities like the My Lai Massacre, the unleashing of chemical weapons (most notoriously Agent Orange), and the U.S. war machine's use of more than twice the explosive power in the Vietnam War as employed by all sides in the Second World War…. [F]or Obama, the "national shame" was that returning U.S. troops were not always "welcomed home," were often "blamed for the misdeeds of a few," and were "sometimes…denigrated"—despite the fact that they had made enormous sacrifices in a war that they "didn't start."… It should be obvious…that the current plans for an extended Commemoration…. is an attempt to rewrite history and to erase from the national memory the basic facts about the most horrendous imperialist (North-South) war of the twentieth century, as well as the most unpopular war in U.S. history.… | more |
Implosion of the European System
Majority opinion in Europe holds that Europe has all it takes to become an economic and political power comparable to, and consequently independent of, the United States…. I believe that Europe suffers from three major handicaps that rule out such a comparison. First of all, the northern part of the American continent…is endowed with natural resources incomparably greater than the part of Europe to the west of Russia…. Secondly, Europe is made up of a good number of historically distinct nations whose diversity of political cultures…has sufficient weight to exclude recognition of a "European people"… In the third place…capitalist development in Europe was and remains uneven, whereas American capitalism has developed in a fairly uniform way throughout the northern American area, at least since the Civil War. Europe, to the west of historic Russia…is composed of three unequally developed sets of capitalist societies.… | more |
A View from Occupied America
The theme of the 2012 Left Forum, "Occupy the System—Confronting Global Capitalism," calls for a historical imagination informed by a realistic sense of where we are. To occupy the system is first to be aware of the system as a system—a system of unequal privilege and control. It requires that we occupy the narrative of public debate, which is something the Occupy movement, to a remarkable degree, has been able to achieve. Even President Obama, who so far has followed the economic policies of his Wall Street-friendly advisers, has used campaign rhetoric taken from Occupy Wall Street. But this time around voters are hardly convinced that the "Change" Obama promised last election will happen through the existing system. The breath of fresh air from Occupy and related activism challenges corporate power and capitalism.… | more |
Marge Piercy is the author of eighteen poetry books, most recently The Hunger Moon: New & Selected Poems, 1980–2010 from Knopf. Her most recent novel is Sex Wars (Harper Perennial) and PM Press has republished Vida and Dance the Eagle to Sleep with new introductions.… | more |
His right eye blinked furiously, swollen and red; he continued to rub it…. Louis-Jodel Chamblain, the man sitting across from me, had been a commander of the paramilitary force…known as the Revolutionary Front for the Liberation of Haiti—also known as the Front for the National Liberation and Reconstruction of Haiti, or FLRN…. He was also a cofounder in the mid–1990s of the Front for the Advancement and Progress of Haiti (FRAPH) death squads. According to Human Rights Watch, the FRAPH took part in the killing of at least 4,000 people as well as in thousands of rapes and other acts of torture. Before cofounding the FRAPH, Chamblain had served with the Tonton Macoutes, the infamous paramilitary arm of the Duvalier dictatorship, which according to human rights organizations was responsible for killing tens of thousands of people and victimizing many more.… | more |
Cuba is remaking medicine in a remarkable diversity of cultures in Latin America, the Caribbean, Africa, Asia, and the Pacific Islands. Its efforts go far beyond providing medical care to other parts of the world as a Western approach might limit itself to doing. The Cuban project develops bilateral agreements with host countries to rethink, redesign, and recreate medicine.… | more |
Frank Bardacke, Trampling Out the Vintage: Cesar Chavez and the Two Souls of the United Farm Workers (London: Verso, 2011), 848 pages, $54.95, hardback.
This big book is great U.S. history. A solid, comprehensive, richly detailed, brilliantly composed study of a major post-1960 movement in U.S. labor, it is also a dramatic narrative vivid with critical analysis of the movement's developing strengths and faults, and thick with lessons for the struggles of today's left.… | more |
Mass Struggle, Then What?
Michael D. Yates, editor, Wisconsin Uprising: Labor Fights Back (New York: Monthly Review Press, 2012), 282 pages, $18.95, paperback.
John Nichols, Uprising: How Wisconsin Renewed the Politics of Protest, from Madison to Wall Street (New York: Nation Books), 117 pages, $18.50, paperback.
It is curious as well as enormously exciting to be surrounded by a mass movement, full of enthusiasm, energy, and eagerness to adopt labor slogans and labor songs, almost as if the 1930s and '40s had come back. And it is all the more curious because the emergence of the movement seemed so spontaneous and unexpected, taking every Marxist (and any other) would-be savant by surprise, your reviewer most definitely included. Eighteen months and a major electoral defeat later, the "Wisconsin Uprising" goes on, with dampened spirits but a continuation of innovative extras. One small example is the "Overpass Light Brigade," a group of urban guerillas who hold LED-lit slogans in various spots of the state, ridiculing Governor Scott Walker and his lackeys, until the cops arrive. But where is it going?… | more |
Howard Waitzkin, Medicine and Public Health at the End of Empire (Boulder, CO: Paradigm Publishers, 2011), 256 pages, $25, paperback.
For the past three decades Howard Waitzkin has been (along with Vicente Navarro) the leading social medicine theorist in the United States. Medicine and Public Health at the End of Empire provides a superb sampling of Waitzkin's wide-ranging work, and a readily accessible introduction to the searching insights offered by a Marxist view of medicine.… | more |