Volume 65, Issue 05 (October)
Volume 65, Issue 05 (October 2013)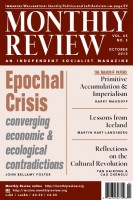 October 2013 (Volume 65, Number 5)
» Notes from the Editors
A sign of the crass economic culture of our times is the recent release by Hasbro of the game "Monopoly Empire" based on the well-known "Monopoly" game, first mass produced in 1935 by Parker Bothers, now a Hasbro subsidiary. The new version can be played in thirty minutes and is designed to take the friction out of the game while glorifying the modern corporate system. Players collect iconic brands of corporations such as McDonalds, Coca-Cola, Nestlé, and Samsung, which they add to billboard "towers" in a race to the top. Players no longer leave the game due to bankruptcy. The goal is simply to build the biggest monopoly brand empire.… | more |
It is an indication of the sheer enormity of the historical challenge confronting humanity in our time that the worst economic crisis since the Great Depression, sometimes now called the Second Great Depression, is overshadowed by the larger threat of planetary catastrophe, raising the question of the long-term survival of innumerable species—including our own. An urgent necessity for the world today is therefore to develop an understanding of the interconnections between the deepening impasse of the capitalist economy and the rapidly accelerating ecological threat—itself a by-product of capitalist development.… | more |
Primitive Accumulation and Imperialism
To mark the centenary this year of the birth of Harry Magdoff, born August 21, 1913,
Monthly Review
is publishing the following talk found in his papers, and originally entitled "Primitive Accumulation." The precise date and occasion of the talk is unknown. However, an inspection of the contents suggests that it was probably delivered not long after the publication of Arghiri Emmanuel's article "
White-Settler Colonialism and the Myth of Investment Imperialism
," in the May–June 1972 issue of
New Left Review
, and before the publication of Magdoff's long article, "Colonialism: European Expansion Since 1763," which appeared in the fifteenth edition of the Encyclopedia Britannica late in 1974. It appears that the audience was aware in advance of the two topics to be discussed: Marx's treatment of "So-Called Primitive Accumulation" in volume 1 of
Capital
and Emmanuel's article on "White-Settler Colonialism."
Capitalism, Crisis, and Resistance
If we are to build support for an alternative to capitalism we need clarity on the causes and consequences of the contemporary capitalist drive for greater liberalization and privatization, as well as the benefits from and limits to state direction of capitalist economic activity. Although a small country, Iceland's recent experience has much to teach us about capitalist dynamics and strategies of transformation.… | more |
A Conversation with Cao Zhenglu About His Novel Lessons in Democracy
Cao Zhenglu is a well-known contemporary Chinese realist writer. His stories "Na'er" ("There," about the tragic experience of a union cadre in a state-owned enterprise undergoing "structural reform") and "Nihong" ("Neon," about the life and death of a laid-off woman worker) expose the predicament of Chinese workers in the reform period. His novel
Wen cangmang
(
Asking the Boundless
—an allusion to a line from one of Mao's poems, "I ask, on this boundless land, who rules over man's destiny") has a Taiwanese-owned factory in Shenzhen as the central theater, around which different characters struggle to understand and play their roles in the larger context of "investment." This novel has been celebrated as "the first novel that uses Chinese reality to explain
Das Kapital
." His most recent novel,
Minzhu ke
(
Lessons in Democracy
[Taipei: Taiwan shehui yanjiu zazhishe, 2013]), initiates a further reflection on the Cultural Revolution. Cao's novel re-narrates the Cultural Revolution in terms of its historical unfolding—its aims, processes, contradictions, and significance, and links this story with the contemporary problem of China's path today.
Identity Politics and Left Activism
The biggest internal debate absorbing the world left for at least the last seventy-five years has been whether identity is a left concept and therefore a left concern. In 1950, most activists on the left would have said no. Today a majority would say yes, indeed. But the debate remains fierce.… | more |