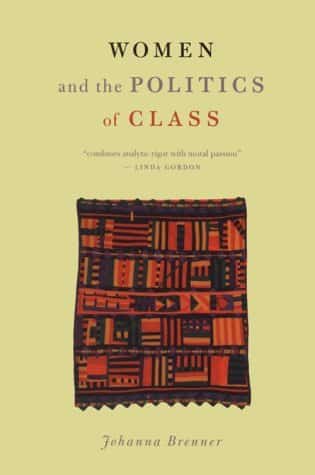 Paperback, 320 pages
ISBN: 1-58367-010-6
Released: December 2000
Women and the Politics of Class engages many crucial contemporary feminist issues—abortion, reproductive technology, comparable worth, the impoverishment of women, the crisis in care-giving, and the shredding of the social safety net through welfare reform and budget cuts. These problems, Brenner argues, must be set in the political and economic context of a state and society dominated by the imperatives of capital accumulation. Drawing on historical explorations of the labor movement and working-class politics, Brenner provides a fresh materialist approach to one of the most important issues of feminist theory today: the intersection of race, ethnicity, nationality, gender, sexuality, and class.
An excellent analysis of women's oppression and the women's movement from a socialist-feminist perspective…. A much-needed addition to contemporary feminist analysis of male domination …. The clarity and moral passion that informs [Brenner's] work is a contagious force often missing in many academic feminist writings, and will be welcomed by all who are looking for a renewed egalitarian vision.
An impressive, scholarly, insightful, and superbly argued contribution to personal and academic women's studies reading lists.
Socialist feminism, a large and influential sector of the women's movement thirty years ago, has been largely eclipsed today, in part by the mistaken view that socialist thought is irrelevant in a post-communist world. Far from it. In Women and the Politics of Class, Johanna Brenner combines analytic rigor with moral passion to demonstrate the liveliness, relevance, and value of this perspective.
Johanna Brenner writes with a clarity of purpose that arises out of a lifetime of participation in the struggles of working-class women. This breakthrough book establishes her as a major voice on the American left.
This thoughtful set of essays challenges both traditional Marxist and traditional feminist analyses of gender and family life. Activists and academics alike will find Women and the Politics of Class a provocative and engaging read.
Contents
Introduction
Part I. Toward a Historical Sociology of Gender
Rethinking Women's Oppression
Gender and the State
Gender and Class Relations in U.S. Labor History
Part II. Women and Social Policy
The Feminization of Poverty, Comparable Worth and Feminist Political Discourse
The Politics of Welfare Reform
Part III. The New Politics of the Family
Socialism Versus Communitarianism
Imagining the Transcendence of the Family
Part IV. Class Politics and Feminist Strategy
The Best of Times, The Worst of Times: U.S. Feminism Today
Meeting the Challenge of the Political Right
Conclusion
Index