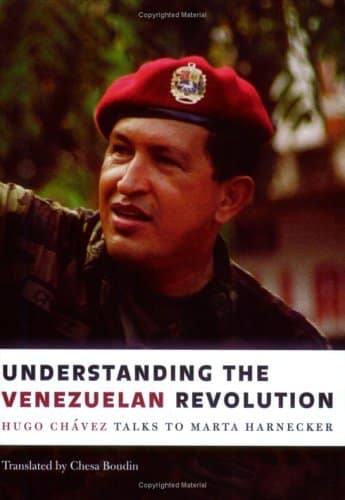 Paperback, 232 pages
ISBN: 1-58367-127-7
Released: November 2005
Marta Harnecker's interviews with Hugo Chávez began soon after one of the most dramatic moments of Chávez's presidency—the failed coup of April 2002, which ended with Chávez restored to power by a massive movement of protest and resistance. In the aftermath of the failed coup, Chávez talks to Harnecker about the formation of his political ideas, his aspirations for Venezuela, its domestic and international policies, problems of political organization, relations with social movements in other countries, and more, constantly relating these to concrete events and to strategies for change.
The exchange between Harnecker and Chávez—sometimes reflective, sometimes anecdotal, always characterized by their passionate commitment to the struggles of the oppressed—brings to light the process of thought and action behind the public pronouncements and policies of state.
The interviews are supplemented by extracts from Chávez's most recent pronouncements on the ongoing transformation in Venezuela and Latin America, an analysis by Harnecker on the role of the military, and a chronology.
Hugo Chávez has become a symbol of defiance of U.S. imperialism throughout Latin America. His importance for the future of the region makes this book essential reading.
Marta Harnecker's important book helps clarify the challenges facing Venezuela's ongoing revolutionary process. The bourgeoisie still controls the economy, the media, the judiciary, and many elected bodies. Additionally, the middle classes which formerly enjoyed an orgy of spending financed by oil money, have now converted from previous nationalist attitudes into allies of imperialism. The decisive role played by Hugo Chavez in initiating that revolutionary process and the immense support he continues to receive from the popular classes makes this book necessary reading for understanding the forces at work in what may well become a stage in the long run transformation of the global system.
Marta Harnecker's penetrating questions brings out the profundity of Hugo Chávez's intelligence and his sense of commitment —as well as his sense of humor. This book is indispensable for understanding the revolutionary process in Venezuela.
and The Pre-Emptive Empire: A Guide to Bush's Kingdom
This well-crafted, well-edited, and engaging book is a bracing antidote and a pleasure to read. Here you will discover the real Hugo Chávez: a highly educated, brilliant, democratic revolutionary leader, and a man of deep and thoroughly admirable humanity.
Superpatriotism, and The Culture Struggle
Table of Contents
Acknowledgments
Introduction
Roots
A Peaceful Transition, A Painful Institutional Birth
The Military in the Revolution and the Counterrevolution
The Slow March Toward an Alternative Economy
Sovereign and Independent International Policy
The Middle Class, Communications Strategy, and Dialogue
A Political Party at its Height
The April 11 Coup