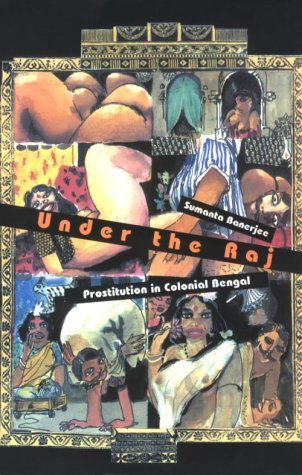 Cloth, 238 pages
ISBN: 1-58367-035-1
Released: June 2000
Under the Raj explores the world of the prostitute, seeking to understand the culture of the trade and its impact on society, in the changing reality of nineteenth century Bengal. Sumanta Banerjee outlines the class structure that emerged within the profession, examines popular perceptions of prostitution and analyzes the complex relationship between the newly educated Bengali bhadralok society and the prostitute community. Banerjee gives voice to the prostitutes themselves, from which we hear their songs, letters, and writings, collected and reproduced from both oral tradition and printed sources.
Questions of identity, autonomous space, collective consciousness and constructions of femininity and domesticity in marriage versus independence in prostitution are also addressed. In the process, Banerjee crafts a more supple and nuanced definition of the sociology of prostitution, moving beyond homogenizing or monolithic notions to reveal the diverse and often contradictory forces shaping commercial and social relations in colonial society.
Prostitution in nineteenth century Bengal acquires relevance today as the heirs to this profession are themselves organizing in different parts of India to seek justice and demand rights, thus reviving the old debate over legalization or prohibition of their professional work.
In Under the Raj, Sumanta Banerjee breaks new ground, situating prostitution in colonial Bengal at the intersection where different segments of the population—ranging from British soldiers to Indian workers—briefly converged.
A good read. [Sumanta] Banerjee moves through the century paying attention to British, bhadralok, and prostitutes as they interact, embrace, and collide. The subject is immensely complicated but in Banerjee's hands, clearly explicated. Among the author's strengths is a mastery of a wide-range of nineteenth century Bengali sources from chapbooks and farces to colonial dispatches . . . Acomplex account of prostitution in nineteenth century Bengal.
Remarkably well-informed and vivid…
Banerjee explores the many changes that the profession of prostitution underwent in colonial Bengal . . . He provides a profusion of documentary evidence [and] recovers songs and sayings current among 19th century prostitutes.
Contents
Prologue
Introducing Phulmoni and Her Sisters: "Phulmoni, Joymoni, Andi, Lakhi, and Padramoni— honour these five prostitutes by taking their names every moment, and even the worst of your sins will be wiped out." —Madhyastha (19th century Bengali periodical)
British "Sahibs" and "Native Women": "These are the Syrens of the East, bedeckt With anklet-bells and nose-rings—such are they Valued in tender youth, but cold neglect Scorn, or contempt, marks their declining day…" — James Atkinson, The City of Palaces, A Fragment (1822)
White Mars and Black Venus: "It is probably true to say that Venus has been in constant attendance upon Mars wherever the British soldier has served in our far-flung Empire, both in an official and unofficial capacity." — Dr. Fernando Henriques, Stews and Strumpets (1961)
The "Beshya" and the "Babu": "You should practice love in such a way that you do not get swayed by any lover; but try to bring the 'babu' under your thumb…" — Advice by an old prostitute to a young practitioner of the trade in 19th century Calcutta
Voices from the Pit: "Just because we expressed our disaffection with our husbands, and left them, are we to be treated as sinners?" — Sangbad Prabhakar (published letters from prostitutes uprooted from their brothels by an eviction drive, 1854)
The Burden of the "Bhadralok": "… the prostitutes should by no means be allowed to enter the precincts of the 'Mela' (exhibition). If you want to do good for the country, anything that is visibly ugly must be kept out of public sight." — Editorial in a 19th century Bengali journal
Official Laws versus Unofficial Needs: "Prostitution exists in all countries, as well as in all the climates of the world. It has been considered a necessary social evil which cannot be eradicated by repressive legislation any more than by moral influence and religious teaching." — C. Fabre-Tonnerre (Gov't of India Home-Public files, 1869)
Epilogue
Notes
Select Bibliography
Index