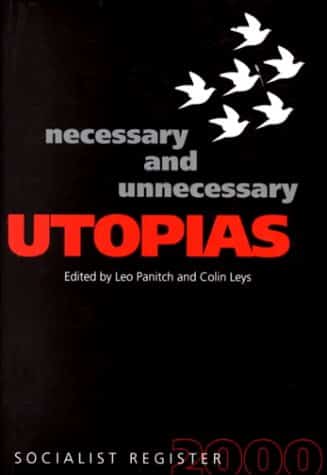 Paperback, 360 pages
ISBN: 1-58367-021-1
Released: November 1999
There is no MR Associate Discount on Socialist Register titles.
OUT OF PRINT
This volume of the Socialist Register points toward a very different way of thinking about the future. While rejecting schematic blueprints, this volume reasserts the need for a bold and revolutionary social imagination aimed at creating saner ways of living and more rational ways of organizing society. Topics covered include work and its structure, democracy and the state, and technology and its social uses. Necessary and Unnecessary Utopias makes the case that a socialist vision of the the future remains both possible and necessary.
The Socialist Register has been the intellectual lodestar for the international left since 1965. The millennium issue Necessary and Unnecessary Utopias powerfully argues the urgency of truly radical politics in the coming decades of humanity's greatest hopes and dangers
Contents
Preface
Transcending Pessimism: Rekindling Socialist Imagination, Leo Panitch and Sam Gindin
Minimum Utopia: Ten Theses, Norman Geras
Utopia and its Opposites, Terry Eagleton
On the Necessity of Conceiving the Utopian in a Feminist Fashion, Frigga Haug
Socialized Markets, Not Market Socialism, Diane Elson
The Chimera of the Third Way, Alan Zuege
Other Pleasures: The Attractions of Post-Consumerism, Kate Soper
Utopian Families, Johanna Brenner
Outbreaks of Democracy, Ricardo Blaug
Real and Virtual Chiapas: Magic Realism and the Left Judith, Adler Hellman
The Centrality of Agriculture: History, Ecology and Feasible Socialism, Colin Duncan
Democratise or Perish: The Health Sciences as a Path for Social Change Julian, Tudor Hart
The Dystopia of Our Times: Genetic Technology and Other Afflictions, Varda Burstyn
Warrior Nightmares: Reactionary Populism at the Millennium, Carl Boggs
The Real Meaning of the War Over Kosovo, Peter Gowan