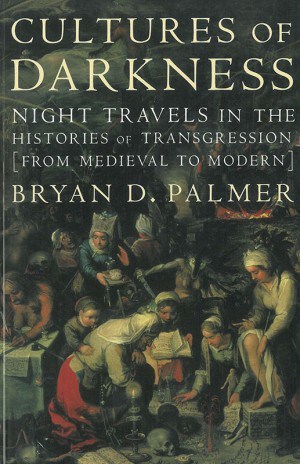 Paperback, 620 pages
ISBN: 1-58367-027-0
Released: January 2000
Peasants, religious heretics, witches, pirates, runaway slaves, prostitutes and pornographers, frequenters of taverns and fraternal society lodge rooms, revolutionaries, blues and jazz musicians, beats, and contemporary youth gangs: those who defied authority, choosing to live dangerously outside the defining cultural dominions of early insurgent and, later, dominant capitalism are what Bryan D. Palmer calls people of the night.
Constructing a rich tapestry of example and experience spanning eight centuries, Palmer's fascinating account details lives of exclusion and challenge, as the night travels of the transgressors clash repeatedly with the powerful conventions of their times. Nights of liberation and exhilarating desire are at the heart of this study but so, too, are the dangers cloaked in darkness. Palmer reveals those hidden spaces where darkness concealed acts of brutalizing terror or alternately provided refuge, solace, or freedom. Using the night as metaphor and unifying theme Palmer takes an unflinching look at those dissident or oppositional cultures and movements and shows how they were fueled and shaped by the rise and transformation of capitalism.
[An] enthralling and important trans-historical study… Palmer's canvas is huge…it ranges from an analysis of early modern witch culture (which he connects to the later development of Puritanism) to the emergence of 19th-century semisecret fraternal orders such as the Oddfellows, the vibrant 20th-century gay male cultures of drag and sadomasochism, and the emergence of a U.S. jazz and blues culture…yet he manages to bring these diverse topics together in a cohesive and astute analysis. Integrating unusual details and artful nuances (from the specifics of 18th-century pirate executions to the links between the Rosenberg trial and the novels of Micky Spillane), Palmer creates a multilayered but seamless portrait of four centuries of Western culture. The underlying theme here is not simply that night offers the occasional transgressive respite from the orderly civilization of day, but that these alternative social, political and artistic spaces are often where the impetus for social change begins. Palmer's bold theme is sustained by his ability to communicate his in-depth, far-ranging scholarship with a broad political vision… and by his accessible and highly entertaining writing style.
An unusual work of historical scholarship, a highly readable yet deeply learned history…
A truly breathtaking book, whose richness of interpretation as well as documentation is nothing short of remarkable.
A rare achievement, a triumph of engaged left scholarship, truly a book of our times…