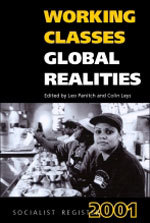 Paperback, 408 pages
ISBN: 1-58367-029-7
Released: November 2000
There is no MR Associate Discount on Socialist Register titles.
OUT OF PRINT
Socialist Register 2001 examines the challenges faced by workers and the labor movement under global capitalism in the new century. This collection of twenty timely and original essays lay the groundwork for a much-needed revival of class analysis. A broad range of working-class issues are addressed including knowledge work and the "cybertariat" in the new economy, feminism and unions, migrant labor, peasant struggles, internationalism, and the impact of unstable, casual, and contingent employment. Other essays examine critically important regional experiences in India, Iran, Russia, Brazil, Southern Africa, and East Asia, as well as Europe and North America. Contributors to this volume reveal new and exciting possibilities for change that transcend the limits of old forms of class organization and politics.
The Socialist Register has been the intellectual lodestar for the international left since 1965.
Contents
Preface
Ursula Huws, The Making of a Cybertariat? Virtual Work in a Real World
Henry Bernstein, "The Peasantry" in Global Capitalism: Who, Where and Why?
Beverly J. Silver and Giovanni Arrighi, Workers North and South
Andrew Ross, No-Collar Labor in America's "New Economy"
Barbara Harriss-White & Nandini Gooptu, Mapping India's World of Unorganized Labor
Patrick Bond, Darlene Miller & Greg Ruiters, The Southern African Working Class: Production, Reproduction and Politics
Steve Jefferys, Western European Trade Unionism at 2000
David Mandel, "Why Is There No Revolt?" The Russian Working-Class and Labor Movement
Haideh Moghissi & Saeed Rahnema, The Working Class and the Islamic State in Iran
Huw Beynon & José Ramalho, Democracy and the Organization of Class Struggle in Brazil
Gerard Greenfield, Organizing, Protest and Working-Class Self-Activity: Reflections on East Asia
Rohini Hensman, Organizing Against the Odds: Women in India's Informal Sector
Eric Mann, "A Race Struggle, A Class Struggle, A Women's Struggle All at Once": Organizing on the Buses of L.A.
Justin Paulson, Peasant Struggles and International Solidarity: The Case of Chiapas
Judith Adler Hellman, Virtual Chiapas: A Reply to Paulson
Peter Kwong, The Politics of Labor Migration: Chinese Workers in New York
Brigitte Young, The "Mistress" and the "Maid" in the Globalized Economy
Rosemary Warskett, Feminism's Challenge to Unions in the North: Possibilities and Contradictions
Sam Gindin, Turning Points and Starting Points: Brenner, Left Turbulence and Class Politics
Leo Panitch, Reflections on Strategy for Labor