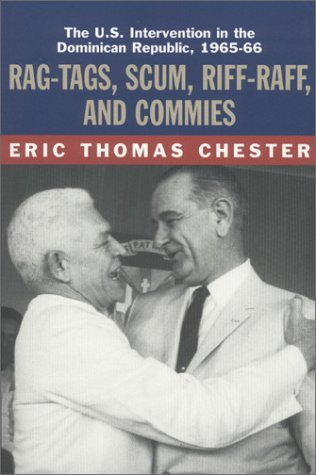 Paperback, 385 pages
ISBN: 1-58367-032-7
Released: March 2001
In April 1965, a popular rebellion in the Dominican Republic toppled the remnants of the U.S. backed Trujillo dictatorship thus setting the stage for the master tinkers of America's Cold War machine. In this groundbreaking study, Eric Thomas Chester carefully reconstructs the events that followed into a thriller of historical sweep. The result is a stunning portrait of how President Lyndon Johnson used the C.I.A., the Pentagon, and the State Department to suppress the rebellion and, ultimately, orchestrate events surrounding the national election to insure an outcome favorable to U.S. interests.
Eric Thomas Chester explains how the U.S. invasion followed in the tradition of "gunboat diplomacy" and was a consequence of superpower Cold War rivalry. Moreover, the intervention sent a clear signal that the United States would not tolerate any threat to its dominant position in Latin America. Confronted with the likelihood of a rebel victory, President Johnson authorized a massive military intervention, thus overturning Franklin Roosevelt's Good Neighbor Policy and initiating an era of direct armed conflict in the region. The result was that by early May, with more than thirty thousand troops deployed, there was a greater U.S. military presence in the Dominican Republic than in South Vietnam.
In this fascinating account, Chester makes extensive use of recently declassified documents, as well as the holdings of private archives, including uncensored telephone transcripts involving the president and his closest and most influential advisors. His nuanced study of the workings of covert and diplomatic initiatives provides a thorough analysis of U.S. foreign policy in Latin America.
Contents
Prologue: The Dominican Crisis: An Overview
Prelude to Revolution
The Uprising Triumphant
Intervention and Quarantine
Applying Pressure
Tightening the Screws
The Bundy Mission: Negotiating an Agreement
The Bundy Mission: Undermining an Agreement
The Bunker Mission
The 1966 Election: Fraud and Intimidation
Rationales for Intervention
Epilogue: Impasse, Integration, and Diaspora
Appendix: The 1966 Election: A Detailed Analysis
Notes
Biographical Glossary
Organizational Glossary
Bibliography
Index