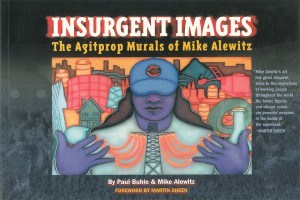 Paperback, 160 pages
ISBN: 1-58367-034-3
Released: August 2002
The most prolific U.S. labor muralist since the 1940s, Alewitz follows the traditions of Diego Rivera, José Clemente Orozco, and David Siqueiros as well as the early painters of the Russian Revolution. With a demonstrated blend of artistic integrity and political commitment, Insurgent Images combines grand historical themes with enlivening detail, to illustrate the interplay between personality and event. Alewitz brings to this tradition his own rich sense of irony, humor, and fantasy to illuminate the hidden spaces where connections between the workforce of the U.S. and its extended relatives across the planet are to be found. Insurgent Images contains murals for the Teamsters—their "Victory Mural" after the United Parcel Service (UPS) Strike of 1998—the Oil Chemical and Atomic Workers, the Communications Workers, United Electrical Workers, the United Farmworkers, as well as the Highlander Folk School and other labor institutions.
Other works respond to dramatic events such as the 1984 strike of P-9 workers in Austin, Minnesota, the 1991 rebellion in Los Angeles, and the tragedy at Chernobyl. Altogether, this collection presents an inspiring artistic reading of our epoch, sometimes poignant and yet full of promise.
Mike Alewitz's art has given eloquent voice to the aspirations of working people throughout the world. His heroic figures and vibrant colors are powerful weapons in the hands of the oppressed.
Alewitz's approach is ideally suited to the postmodern and post-state socialist era, when everything rebellious must be created anew and when 'culture' along with 'labor' are urgently needed to salvage a world from eco-disaster, perpetual war, and the plundering of human possibility.
Alewitz connected art to the struggle, as part of a long tradition of political artists, like Mexican muralist Diego Rivera, who believed art should be an expression of the movement, not isolated commentary in a gallery.
The typical Alewitz work continues the tradition of 'agitprop' (agitation and propaganda) that places art in the service of the class struggle. This is not art
as decoration or adornment, but art as a weapon, intended to stir the emotions and deepen the political consciousness of its viewers … his work never descends to the dreary didacticism that can make political art meaningful but dull. His satire and wit, often expressed through smaller, background figures, frequently enlivens the paintings. Ultimately, though, Alewitz's art is driven by a deep political commitment and a radical social consciousness.
A vibrant, full-color presentation of the vivid and powerfully themed mural artworks done by Alewitz, an outspoken labor activist since the 1940s. Presenting a strong political theme of worker's rights and solidarity, capturing the imagination with its outspoken message, and offered alongside a sensible commentary that places pieces in context to the labor and humanitarian issues they illustrated, Insurgent Images is a stunning collection of art created to serve showcase and advance the cause of worker and human rights.
Contents
Foreword by Martin Sheen
Introduction
Visual Radicalism in the United States and the Mural Art of Mike Alewitz
The Education of a Radical Artist
P-9, The Austin Mural
Labor Solidarity (for Artists Too!)
Lit by LAMP
Visions of a Different Future
Postscript
Notes
Acknowledgments
Selected Muralography
Index