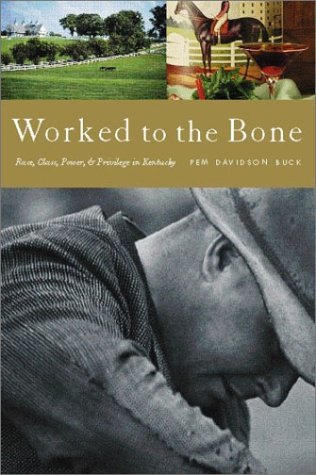 Paperback, 279 pages
ISBN: 1-58367-047-5
Released: June 2001
Worked to the Bone is a provocative examination of race, class and the mechanics of inequality in the United States. In an engaging and accessible style that combines thoroughly documented sociological insight with her own compelling personal narrative, Pem Buck illustrates the ways in which constructions of race and the promise of white privilege have been used at specific historical moments in two Kentucky counties to divide those who might have otherwise acted on common class interests.
Worked to the Bone analyzes Kentucky's political and social transformation, providing an overview of the key events that shaped the region: from slavery, share-cropping, Jim Crow, the loss of land rights and the subsequent creation of a cheap labor force; the challenges to capitalism during the populist era, the rise of the Ku Klux Klan in the south; to the "New South" and integration into the global economy. Pem Buck successfully constructs an alternative anthropology, offering a perspective which takes account of what she calls "the view from under the sink"—or from behind the cash register or sewing machine; welfare line or computer keyboard; or any of the countless other places where ordinary people struggle to make ends meet.
Pem Buck examines the long term effects of these developments and discusses their impact on the lives of working people in Kentucky. She also analyzes the role of local tobacco-growing and corporate elites in the underdevelopment of the state, highlighting the ways in which relationships between poor white and poor black working people are continually manipulated to facilitate that process.
This brave book is a committed intellectual's labor of love. Pem Buck reveals the past precedents and future necessity of a consciousness and politics of class that transcends socially constructed divisions of race and gender. She offers a richly nuanced, historically contextualized analysis of rural Kentucky's hardworking and impoverished whites—the kind of poor folk for whom the privileges of whiteness have been limited. Her carefully researched study of the changing dynamics of race, gender, and class in two central Kentucky counties is clearly situated within the evolving economic and political trends of national and transnational arenas of capitalist development.
The scope of [Pem] Buck's study is ambitious. She situates her study within the context of work on the South, Appalachia, gender, slavery, and labor, as well as race relations. She traces the themes of capitalist development and follows the flow of capital … Worked to the Bone is an intriguing exploration of the role that race has played in shaping the economy and society of Kentucky. Where better to study the history of whiteness than in central Kentucky, with its mixture of power and oppression, aristocratic privilege and redneck stereotypes?
Contents
Introduction: The View from Under the Sink
Making Sweat Trickle Up: Organizing First Steps Toward Underdevelopment in the U.S. South
Derailing Rebellion: Inventing White Privelege
Life in Black and White
Resisting Trickle Up While Accomodating Whiteness
Forks in the Road
Gender, Whiteness, and the Psychological Wage
Jim Crow, Underdevelopment, and the Reinforcement of the Tottering Drainage System
Critiquing Capital
National Capital and the Waning of Independence
The Redefinition of the Producer Egalitarian Ethic
The Klan and the Manufacture of Middle-Class Consent: Splitting the White Working Class, Terrorizing the Black
Brown Shirts/White Sheets: Fascism and Middle-Class Demotion
National Capital: The Retreat from Fascist Processes and the Sugar-Coated Contract
Local Elite Choices and the Reorganized Drainage System: "Old South" and "New South"
Hooking in the Rest of the World: The Reorganization of Drainage in the New World Order
The Resumption of Fascist Processes
Whiteness: The Continuing Evolution of a Smokescreen
Endnotes
Index