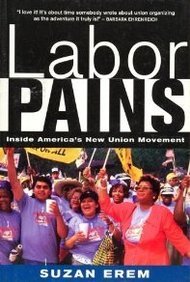 Paperback, 256 pages
ISBN: 1-58367-058-0
Released: October 2001
Labor Pains is an insider's account of the struggle to rebuild a vibrant and powerful trade union movement in the United States. It takes as its starting point the daily experience of a union organizer, and brings that experience to life. It enables us to grasp how the conflicting demands of race, class, and gender are lived in the new union movement.
The role of the unions is defined mainly by larger economic and political agendas. While keeping these agendas clearly in sight, Erem focuses primarily on aspects of the life of the union which often remain hidden. The personal crises of union members become entangled in the work of the union. The energies of the union are focused not only on winning gains from bosses but also on maintaining internal cohesion and morale among workers. Barriers of race, age and gender are constantly negotiated and overcome, and conflicts flare up across them at moments of tension. And union life goes on not only when the workers have made their point, or won a victory, but after defeat as well. The personalities and ambitions of union organizers converge at times and become a source of tension at others. Each individual within the larger collective has their own task of finding a viable balance between public and private selves.
These intersecting lines of force are imaginatively recreated in this book. Erem writes as a woman in a union movement which is dominated by men; as the child of immigrants in a movement whose members are increasingly immigrants themselves; as one who finds herself in the racial no man's land between black and white. While never underestimating the obstacles in the way of the union movement, she makes a powerful and passionate case for organizing the unorganized and empowering the powerless.
A compelling narrative … [Suzan] Erem's book is revealing and important, not only because it does a wonderful job of of actualizing working-class ideology and activity with the metaphorics of language, but also because it provides the reader with a sympathetic and hopeful view of society …
I love it! It's about time somebody wrote about union organizing as the adventure it truly is! I hope this is the beginning of a whole new era in labor writing, which has historically been all too dry. Labor Pains is a great read.
As a new generation of campus activists move into the labor movement, Labor Pains captures the complex hard love that working within today's labor movement entails. Through Suzan Erem's very readable stories we get a sometimes troubling, sometimes heartening, and mostly very real sense of the day to day struggles of a union trying to do right by its members and its vision, in an ever more challenging environment for workers and unions. It is a very personal story, framed by Erem's unique background and experience, but still tells a universal story about sticking with the union, even when the going gets rough.
NYS SCHOOL OF INDUSTRIAL & LABOR RELATIONS, CORNELL UNIVERSITY
Reading Suzan Erem is like listening to a longtime friend. She writes with the authentic voice of a sister who's been there, done that, printed the t-shirts, and personally hand painted the picket signs. Labor Painsis an elevated train ride through the lives of real people lovingly rendered without sentimentality or fawning nostalgia.
This is the painful story of a person who loves the labor movement; a straight from the shoulder, honest recounting of the persons she met and the joys and disappointments which were hers through the years of organizing. Suzan Erem's questioning of leadership tactics was the outcome of her deep respect for the people she organized. A series of honest encounters are told in a most readable fashion.
Suzan Erem's chronicle of one mother's life and work in organized labor is touching, honest, daring, sometimes uncomfortable, but also instructive and uplifting. For anyone who has ever had to put aside family and personal goals for the betterment of others, this is your story. Keep writing, Suzan; stories like yours are as necessary as water to a land thirsty for genuine heroes, genuine conflicts, and standing tall for genuine solutions.
ALWAYS RUNNING: LA VIDA LOCA, GANG DAYS IN LA
Contents
PROLOGUE
Introduction
PART ONE: CENTRIFUGAL FORCE
Make Way for a New Day
Spinning into the Job
No Reds in the Rainbow
Lois Anne's Labor Movement
The Stage is Set
Union Staffer: A Job Description
Even the Dead
The Evolution of a President
Child's Play in the Toy Store
The Day I Got Freedom
Organizing, When it Works
A Toast to the Winners
Going in Unarmed
A White "N" and Other Slander
Barbie in Workboots
Hanging Them Out to Dry
Enter a Health Care Giant
PART TWO: FUTILITY
Another Night Alone
Still Can't Win for Losing
The Revival of the Boycott
The Mysterious Death of Josef
When Bullets Fly
The President Creates his Generals
The Violence Inside
Bad Boys
The Smell of Scotch
Playing the Race Card
Finding My Lines
PART THREE: HOPE
Striking a Hospital
The Union Begins to Crumble
As United as we Get
A Home for the Holidays
Frogs in a Beaker
The Reverend Returns
Our Doors
From the Beginning
Going East?
The Struggle Continues
EPILOGUE