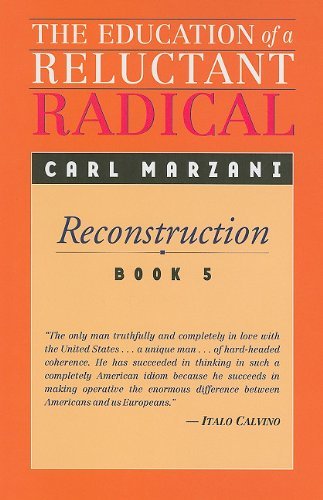 Paperback, 292 pages
ISBN: 1-58367-063-7
Released: June 2001
"This book spans a period of forty years, from my entering jail in March of 1949 to November of 1989, when the Berlin Wall came down. It touches nine presidencies—all dominated by the Cold War. That long period contained some of the most traumatic events in the history of the United States: the assassinations of John F. Kennedy, Robert Kennedy, Martin Luther King, and Malcolm X, as well as the wars in Korea and Vietnam."
Reconstruction, Book 5 is the final volume of memoirs from one who was, according to Italo Calvino, "a unique man… truly in love with the United States." Here is a remarkable first-hand account of many formative events of our time, and contains portraits of some of its great figures, including encounters with Fidel Castro and Che Guevara. It also recounts the reconstruction of Carl Marzani's life following imprisonment and divorce, with the building of a new life and family.
This volume also includes Carl Marzani's Prison Notebooks — confiscated by the prison authorities in 1949 and retrieved from the FBI files in the 1980s — which now take their place among the literature of incarceration.
The Education of a Reluctant Radicalis beautifully written, informing us beyond the events it relates, thus touching us all. It is a walloping wonder of a memoir.
At a time when socialists all over the world awaken each day to a welter of pain, confusion, and regret, Carl Marzani is sitting down to remind us that socialism remains a powerful response to organized human need.
Delightful reading… the life of a 'premature anti-fascist' that spans nearly the whole of the century.
For Carl Marzani, a brave and staunch dissident and now one of those rare autobiographers who is simultaneously a first-rate biographer of his place(s) and time.