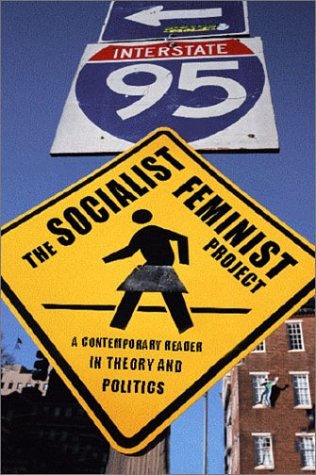 Paperback, 384 pages
ISBN: 1-58367-068-8
Released: August 2002
Socialist feminist theorizing is flourishing today. This collection is intended to shows its strengths and resources and convey a sense of it as an ongoing project. Not every contribution to that project bears the same theoretical label, but the writings collected here share a broad aim of understanding women's subordination in a way which integrates class and gender—as well as aspects of women's identity such as race, ethnicity, and sexual orientation—with the aim of liberating women.
The Socialist Feminist Project: A Contemporary Reader in Theory and Politics brings together the most important recent socialist feminist writings on a wide range of topics: sex and reproduction, the family, wage labor, social welfare and public policy, the place of sex and gender in politics, and the philosophical foundations of socialist feminism. Although focusing on recent writings, the collection shows how these build on a history of struggle.
These writings demonstrate the range, depth, and vitality of contemporary socialist feminist debates. They also testify to the distinctive capacity of this project to address issues in a way that embraces collective experience and action while at the same time enabling each person to speak in their own personal voice.
This anthology will make an excellent classroom reading for both undergraduates and experienced students. It will also prove a useful scholarly resource even for readers well-versed in the history and theory of the feminist movement. Finally, the collection has practical potential in the hands of organizers and activists. This is a sign of the reader"s success: it is a versatile and interesting read that will "connect" for a broad audience. I urge you to take it up.
Contents
Introduction by Nancy Holmstrom
Foremothers/Fathers
Part I: Sex, Sexuality and Reproduction
Dorothy Allison, A Question of Class
Micaela Di Leonardo and Roger Lancaster, Gender, Sexuality and Political Economy
Emily Martin, Premenstrual Syndrome, Work Discipline, and Anger
Rosalind P. Petchesky, Human Rights, Reproductive Health and Economic Justice: Why They are Indivisible
Rosemary Hennessy, Reclaiming Marxist Feminism for a Need-Based Sexual Politics
Part II: Family: Love, Labor and Power
Judith Stacey, The Family is Dead, Long Live our Families
Janice Haaken, Stories of Survival: Class, Race, and Domestic Violence
Purvi Shah, Redefining the Home
Cherrie Moraga, My Brother's Sex Was White, Mine Brown
Stephanie Coontz, Revisiting Marx and Engels on the Family
Ann Ferguson, On Conceiving Motherhood and Sexuality: A Feminist-Materialist Approach
Deniz Kandiotti, Bargaining with Patriarchy
Temma Kaplan, The Disappearing Fathers under Global Capitalism
Part III: Wage Labor and Struggles
Chandra Talpade Mohanty, Women Workers and Capitalist Scripts: Ideologies of Domination, Common Interests, and the Politics of Solidarity
Nancy MacLean, The Hidden History of Affirmative Action: Working Women's Struggles in the 1970s and the Gender of Class
Leslie Salzinger, Making Fantasies Real: Producing Women Men and Women on the Maquila Shop Floor
Elizabeth Oglesby, Machos and Machetes in Guatemala's Cane Fields
Jo Bindman, An International Perspective on Slavery in the Sex Industry
Kamala Kempadoo, Globalizing Sex Workers' Rights
Part IV: Economics, Social Welfare and Public Policy
Mimi Abramovitz, Still Under Attack: Women and Welfare Reform
Chris Tilly and Randy Albelda, Toward a Strategy for Women's Economic Equality
Angela Y. Davis, Public Imprisonment and Private Violence: Reflections on the Hidden Punishment of Women
Maxine Molyneux, Conceptualizing Women's Interests
Part V: Politics and Social Change
Sheila Rowbotham, Appreciating Our Beginnings
Elizabeth Martinez, Listen Up, Anglo Sisters
Ellen Meiksins Wood, Capitalism and Human Emancipation: Race, Gender and Democracy
Cynthia Enloe, Militarizing Women's Lives
Mary E. Hawkesworth, Democratization: Reflections on Gendered Dislocations in the Public Sphere
Leith Mullings, Mapping Gender in African American Political Strategies
Johanna Brenner, Intersections, Locations, and Capitalist Class Relations: Intersectionality from a Marxist Perspective
Part VI: Nature, Society and Knowledge
Nancy Hartsock, The Feminist Standpoint Revisited
Nancy Holmstrom, A Marxist Theory of Women's Nature
Val Plumwood, The Ecopolitics Debate and the Politics of Nature
Meera Nanda, Women and the Third World: Exploring the Dangers of Difference
Julie Sze, Expanding Environmental Justice: Asian American Feminists' Contribution
Acknowledgments
Index