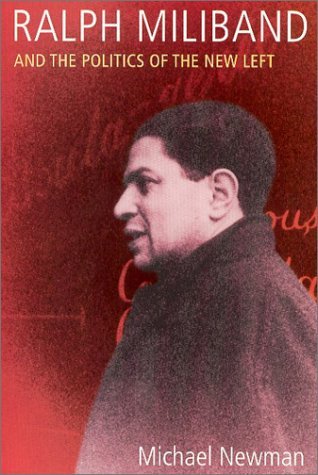 Paperback, 368 pages
ISBN: 1-58367-086-6
Released: December 2003
Ralph Miliband (1924-94) was a key twentieth century political thinker. His books The State in Capitalist Society and Parliamentary Socialism influenced a generation of the left. Miliband was an academic and public intellectual whose life and work were devoted to the attempt to define and apply an independent form of socialism. He was an influential teacher and theorist who played a key role within the political and intellectual community of the Left, both in Britain and in North America, where he held several visiting professorships.
The Socialist Register, which he founded (with John Saville) and edited for thirty years, brought him into contact with left-wing intellectuals throughout the world. This biography draws Miliband as an energetic letter writer, and his letters, many on issues of political importance with such figures as E.P. Thompson, C.Wright Mills, Leo Huberman, Harry Magdoff, Leszek Kolakowski, Marcel Liebman, Rossana Rossanda, K.S. Karol, Daniel Singer, André Gorz and Perry Anderson.
Based on exclusive access to Miliband's extensive personal papers, and supplemented by interviews, this book analyzes the ideas and contribution of a key figure in the British and international Left from the Second World War until the collapse of communism. The book also provides an interpretative history of the evolution, debates and dilemmas of socialists throughout the period, and of the problems they faced both at work defending academic freedom and in society at large.
A very fine biography of a key figure who for so long deservedly stood as a beacon on the international left for the way he articulated and redefined socialist politics.
Miliband's own interventions in his time live on, in his books and essays; but his personal writings, amply extracted here, give a vivid sense of the man behind them—making this a good book to have." "admirably clear in its construction and scrupulously researched…
Contents
Foreword
List of Illustrations
Acknowledgments
Introduction
Chapter One: Socialism and Identity
Growing up in Brussels and London, 1924–41
Cambridge and LSE, 1941–43
The Navy, 1943–46
Chapter Two: Apprenticeship (1946–56)
Reuniting the Family
Academic Life
On the Labour Left
Writings
The Legacy of Laski
Chapter Three: The New Left and Parliamentary Socialism (1956–62)
New Relationships
Parliamentary Socialism
The Politics behind Parliamentary Socialism
A New Left Theorist?
Chapter Four: The Sixties (1962–69)
The Break with the Labour Party
From New Left Review to The Socialist Register
The Crises of the 1960s
Chapter Five: Free Speech and Academic Freedom
Chapter Six: The State in Capitalist Society and the Debate with Poulantzas
The State in Capitalist Society
The Miliband-Poulantzas Debate
Chapter Seven: Marxism and Politics (1970–77)
Political Thought
Political Practice: The Centres for Marxist Education And the Idea of a New Socialist Party
Chapter Eight: An Uphill Struggle (1977–91)
A Year in Boston and its Consequences
Politics and the United States
Analyzing 'Thatcherism'
'Bennism' and the Socialist Society
Confronting the 'New Revisionism'
Soviet-type Regimes and the Gorbachev Reforms
The Independent Left Corresponding Society and the Chesterfield Conferences
The Collapse of Communism
Chapter Nine: In Pursuit of Socialism
Conclusion: Ralph Miliband Today
Notes on Sources & Bibliography
Index