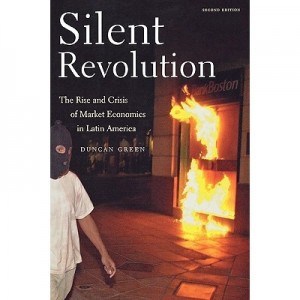 Paperback, 272 pages
ISBN: 1-58367-091-2
Released: November 2003
Throughout the 1990s Latin America was seen as the poster child of neoliberalism, as governments opened their economies to imports, slashed social spending, and gave priority to attracting foreign investment. In the process, runaway inflation was held in check and currencies stabilized. But this was done at huge environmental and human cost. Global corporations and small elite in Latin America grew rich, but the bulk of the population suffered.
The first edition of Green's Silent Revolution, published in 1995, described the imposition of neoliberal economic models in Latin America, the role of the IMF and World Bank in enforcing them, and their consequences. This second, revised and updated edition makes clear that the "miracle" of the 1990s has come to an end. Green extends his analysis into the present, showing how the economic meltdown that is now taking place in Latin America was prepared by an economic strategy that could never live up to its own claims.
This new edition was completed in a moment when the Argentinian economy is in ruins, Brazil is on the brink of collapse, riots are taking place in Uruguay, Peru, and Paraguay, a U.S. supported coup has just been averted in Venezuela. It will be an essential work for understanding ongoing developments in the region.
"This second edition of a very good book initially published in 1995 has been expanded and thoroughly revised, updated and to a large extent rewritten. Although Green is critical of recent economic policies in Latin America, he is never dogmatic, and unlike many critics, he discusses alternatives. He conveys an impressive amount of information, but since he develops contexts so carefully, the result is a well ordered, rigorous, and coherent presentation. Moreover, Green writes clearly and with polish, producing a book that has proven to be accessible and interesting …. Those who know the first edition will find the second edition to be familiar in positive ways, but to a great extent, the second edition is a new book. Tables, excellent appendices, and recommendations for further reading organized by topic. Highly recommended."
"In the face of frustrations with neoliberal reforms in Latin America, the search for alternative views and paradigms is in full swing. This new edition of Silent Revolution is thus particularly welcome. It provides a breath of fresh air in this quest."
"A dynamic and comprehensive analysis of the neoliberal reform experience in Latin America over the last three decades. While passionate in its tone, it never loses intellectual rigor and balance in judgment. It is essential reading not only for those who are interested in Latin America, but for anyone who is interested in the broader issues of economic development and globalization."
"With the Argentine financial crisis still reverberating around the continent, this book will stimulate thinking on why neoliberalism has produced such modest gains in Latin America and encourage readers to address the alternatives—however embryonic they may appear at this stage."
"Well written and highly entertaining. This book is a must for any student of contemporary development issues. It should also be part of the background knowledge of any policymaker and politician."
"[Duncan] Green presents an excellent overview and analysis of the trajectory of the Latin American economies and societies . . . . [A] wonderful introduction to the complexities of the economic crisis still facing the region"
Table of Contents
Introduction
State versus Market: The Rise and Fall of Import Substitution
Poverty Brokers: The International Monetary Fund and the World Bank
The Lost Decade: Latin America 1982–1991
Silent Revolution: Latin America 1991–2001
Export or Die: Export-Led Growth and Regional Trade
Silences of the Revolution: The Human and Environmental Costs of Adjustment
For and Against: The Politics of Neoliberalism
Other Paths: The Search for Alternatives
Conclusions
Appendix A: Country-by-Country Guide to the Latin American and Caribbean Economies, 1982–2002
Appendix B: Comparison of Import Substitution, Neo Structuralism, and Neoliberalism
Glossary
Further Reading
Notes
Index