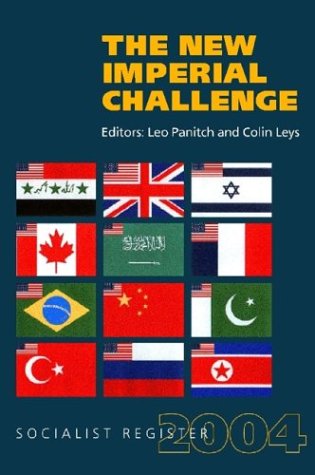 Paperback, 304 pages
ISBN: 1-58367-099-8
Released: November 2003
There is no MR Associate Discount on Socialist Register titles.
Edited by Leo Panitch and Colin Leys
For forty years, the annual Socialist Register has brought together leading writers on the left to investigate aspects of a common theme. Contributors to this volume consider what imperialism means in the new century by examining the U.S.-led imperialist project currently transforming relations of global power.
The essays in this fortieth volume of the Socialist Register analyze the unique nature of the new U.S. empire and challenge the left to develop a better theory of imperialism and its relation to globalized capitalism. Other essays examine the limits and contradictions of "Americanization" as a dimension of U.S. global power; the facts and myths surrounding U.S. strategic interests in Iraq and the "war on terror" ecological imperialism, and the significance of international migration in the new imperial order.
I know the Register very well and have found it extremely stimulating, often invaluable.
The Socialist Register has been the intellectual lodestar for the international left since 1965.
Contents
Preface
Leo Panitch and Sam Gindin, Global Capitalism and American Empire
Aijaz Ahmad, Imperialism of Our Time
David Harvey, The "New" Imperialism: Accumulation by Dispossession
Gregory Albo, The Old and New Economics of Imperialism
Noam Chomsky, Truths and Myths about the Invasion of Iraq
Amy Bartholomew and Jennifer Breakspear, Human Rights as Swords of Empire
Paul Rogers, The U.S. Military Posture: A Uniquely Benign Imperialism?
Michael T. Klare, Blood for Oil: The Bush-Cheney Energy Strategy
John Bellamy Foster and Brett Clark, Ecological Imperialism: The Curse of Capitalism
Tina Wallace, NGO Dilemmas: Trojan Horses for Global Neoliberalism?
John S. Saul, Globalization, Imperialism, Development: False Binaries and Radical Resolutions
Emad El-Din Aysha, The Limits and Contradictions of "Americanization"
Bob Sutcliffe, Crossing Borders in the New Imperialism