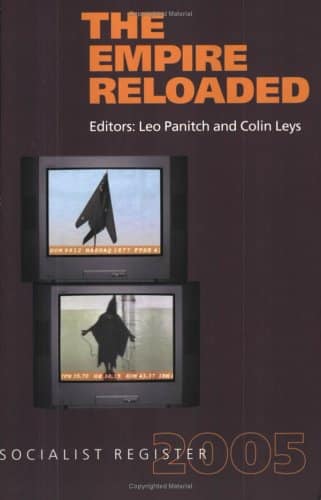 Paperback, 308 pages
ISBN: 1-58367-118-8
Released: November 2004
There is no MR Associate Discount on Socialist Register titles.
Since 1964, the Socialist Register has brought together leading writers on the left to investigate aspects of a common theme. This volume examines the new U.S.-led imperialist project that is currently transforming the global order, its impact on different regions of the world, and on gender, media, and popular culture.
How does the new American empire work? Who runs it? How stable is it?
What is the new American Empire's impact throughout the world?
What is its influence on gender relations? On the media? On popular culture?
I know the Register very well and have found it extremely stimulating, often invaluable.
The Socialist Register has been the intellectual lodestar for the international left since 1965.
Contents
Stephen Gill, The Contradictions of American Supremacy
Varda Burstyn, The New Imperial Order Foretold
Leo Panitch & Sam Gindin, Finance and American Empire
Chris Rude, The Role of Financial Discipline in Imperial Strategy
Scott Forsyth, Hollywood Reloaded: The Film as Imperial Commodity
Harriet Friedman, Feeding the Empire: Agriculture, Livelihood and the Crisis of the Global Food Regime
Vivek Chibber, Reviving the Developmental State? The Myth of the 'National Bourgeoisie'
Gerard Greenfield, Bandung redux: Imperialism and Anti-Globalization Nationalisms in Southeast Asia
Yuezhi Zhao, China and Global Capitalism: the Cultural Dimension
Patrick Bond, US Empire and South African Subimperialism
Doug Stokes, US Counterinsurgency in Colombia
Paul Cammack, 'Signs of the Times': Capitalism, Competitiveness, and the New Faces of Empire in Latin America
Boris Kagarlitsky, The Russian State in the Age of American Empire
John Grahl, The European Union and American Power
Dorothee Bohle, The EU and Eastern Europe: Failing the Test as a Better World Power
Frank Deppe, Habermas' Manifesto for a European Renaissance: A Critique
Tony Benn & Colin Leys, Bush and Blair: Iraq and the American Viceroy