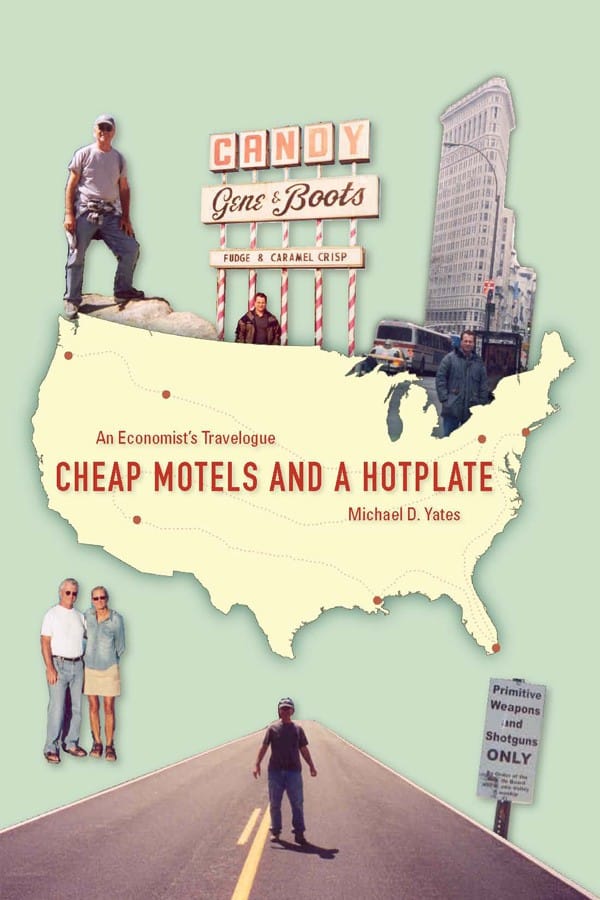 Paperback, 272 pages
ISBN: 1-58367-143-6
Released: March 2007
The road trip is a staple of modern American literature. But nowhere in American literature, until now, has an economist hit the road, observing and interpreting the extraordinary range and spectacle of U.S. life, bringing out its conflicts and contradictions with humor and insight.
Disillusioned with academic life after thirty-two years teaching economics, Michael Yates took early retirement in 2001, with a pension account that had doubled during the dot.com frenzy of the late 1990s. He and his wife Karen have traveled around the country since then, often spending months at a time on the road. Michael and Karen spent the summer of 2001 in Yellowstone National Park, where Michael worked as a hotel front-desk clerk. They moved to Manhattan for a year, where he worked for Monthly Review. From there they went to Portland, Oregon, to explore the Pacific Northwest. After five months of travel in Summer and Fall 2004, they settled in Miami Beach. Ahead of the 2005 hurricane season, they went back on the road, settling this time in Colorado.
Cheap Motels and a Hot Plate is both an account of their adventures and a penetrating examination of work and inequality, race and class, alienation and environmental degradation in the small towns and big cities of the contemporary United States.
Everyone knows about Estes Park, CO, Jackson, WY, Flagstaff, AZ, Moab, UT those treasures become fashionable destinations because travel pages sing of their lush beauty and comfort. Never a word about those who work there, those we seldom see. In Michael Yates's book we get the invisible made visible: the stark and powerful truth of the haves and have-nots. Cheap Motels and a Hot Plate is what we are all about.
Armed with a van and hot plate, Michael Yates and Karen Korenoski set off to do what many of us have dreamed… Their journey combines acute observations and politics from the pleasure of breathtaking sights to a program for reversing the privatization of our national parks and forests. Yates's travelogue/critique ranges from the political economy of California's agricultural valleys, where migrant workers pick our food, to an account of the job market in Portland. This is a great book a road story for radicals. It makes you itch to hit the road.
Here's the travel book the chamber of commerce doesn't want you to have. It shows you the way to places of great beauty, but it also invites you into the parts of real America that other books avoid—gated communities in small towns, homeless kids in our cites, poor people of color toiling at arduous and poorly-paid labor, burgeoning economic inequality, and environmental destruction in our national parks. Read this book. It might change the way you see our country the next time you travel.
Author of Thieves In High Places
Table of Contents
Chapter One: The Road Beckons
Route 22
Johnstown and Pittsburgh
Work Turns Sour
The Road Beckons
Themes of the Book
Suggested Readings
Chapter Two: Yellowstone National Park
The Journey Begins
Training to Be a Guest Service Agent
Amfac's Workforce
Serving the Guests
A New Respect for Workers
In and Around the Park
Suggested Readings
Chapter Three: Manhattan
Nine-Eleven
Apartment Hunting in the Shadow of Disaster
A Dream Come True
Another Job
Walking the City's Streets
Dinner Party
Leaving Manhattan
Suggested Readings
Chapter Four: Portland and the Pacific Northwest
We Take on Company
It's Raining
The Pacific Northwest
Work Vicariously
A Liberal City
Wanderlust
Suggested Readings
Chapter Five: Cheap Motels and a Hot Plate I
Do They Still Make Hot Plates?
South Down Interstate 5
Joshua Tree, Williams, Flagstaff, and Sedona
New Mexico
The Rest of the West
Suggested Readings
Chapter Six: Miami Beach
We Live among the Beautiful People
Calle Ocho
Nude Beach
The Everglades
Key West
Casino
Suggested Readings
Chapter Seven: From the Gulf Coast to Estes Park
The Gulf Coast
New Orleans
Into Texas and Back to the Southwest
My Hometown
The Journey Continues
Suggested Readings