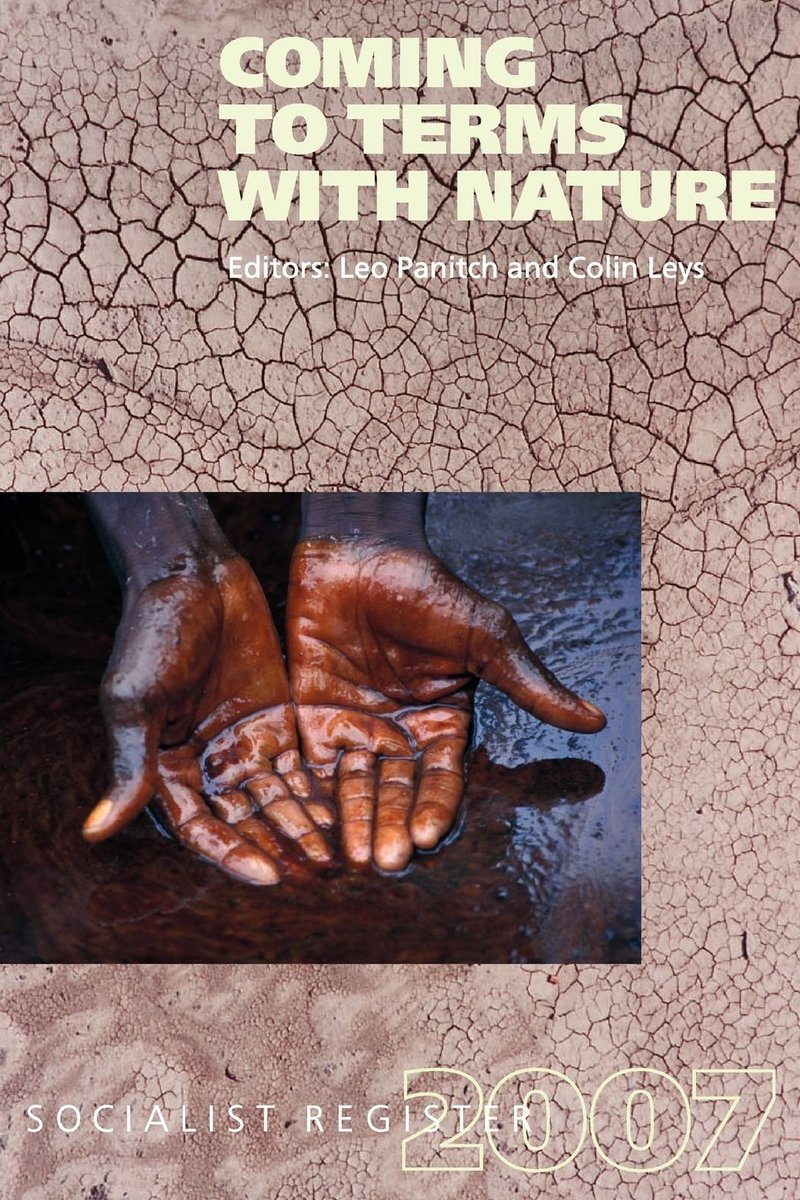 Paperback, 304 pages
ISBN: 1-58367-152-8
Released: November 2010
There is no MR Associate Discount on Socialist Register titles.
Out of stock
Since 1964, The Socialist Register has brought together leading writers on the left to investigate aspects of a common theme. Coming to Terms with Nature: Socialist Register 2007 examines whether capitalism can come to terms with today's ecological challenges and whether socialist thought has developed sufficiently to help us do so. Topics include: the ecological contradictions of capitalist accumulation and the growing social conflicts they create; the relationship between imperialism, markets, oil politics, and renewable energy; the significance of the impasse over the Kyoto protocol; and how technology can overcome the "limits to growth" and yet preserve the biosphere.
These essays also analyze how deeply consumerism affects working class politics and the shortcomings of Green parties and "green commerce." In addition, they address the need to redefine standards of living chiefly in the countries of the North, in order to allow for the global redistribution of wealth and income necessary for development in the South. They also call for eco-socialist strategies that can marry democracy with the planning needed to come to terms with nature.
The international roster of contributors includes Mike Davis and Neil Smith (USA), Enrique Leff (Mexico), Joan Martinez-Alier (Spain), Elmar Altvater (Germany), and Michael Löwy (France).
Contents
Preface
Neil Smith, Nature as Accumulation Strategy
Enrique Leff, The Ecological Contradictions of Capitalism
Neil Smith, Accumulation and Nature
Mike Davis, Historical Materialism and Climate History
Elmar Altvater, The Social and Natural Environment of Fossil Capitalism
Barbara Harriss-White and Elinor Harriss, Unsustainable Capitalism: the Politics of Renewable Energy in the UK
Jamie Peck, Neoliberal Hurricane: Who Framed New Orleans?
Phillip McMichael, Feeding the World: Agriculture, Development and Ecology
Henry Bernstein and Philip Woodhouse, Africa: Eco-Populist Utopias and (Micro-) Capitalist Realities
Minqi Li and Dale Wen, China: Hyper-Development and Environmental Crisis
Guillermo Castro, The Environmental Crisis in Latin America
Brenda Longfellow, Weather Report: Images from the Climate Crisis
Heather Rogers, Garbage Capitalism's Green Commerce
Eric Swyngedouw, Water, Money, and Power
Achim Brunnengraber, The Political Economy of the Kyoto Protocol
Joan Martinez-Alier, Social Metabolism and Environmental Conflicts
Costas Panayatokis, Working More, Selling More, Consuming More: Capitalism's "Third Contradiction"
Hidayat G. Greenfield, Working Class Movements and Environmentalism
Frieder Otto Wolf, Party Building for Eco-Socialists: Lessons from the Failed Project of the German Greens
Greg Albo, The Limits of Eco-Socialism: Scale, Strategy, Socialism
Michael Löwy, Eco-Socialism and Democratic Planning