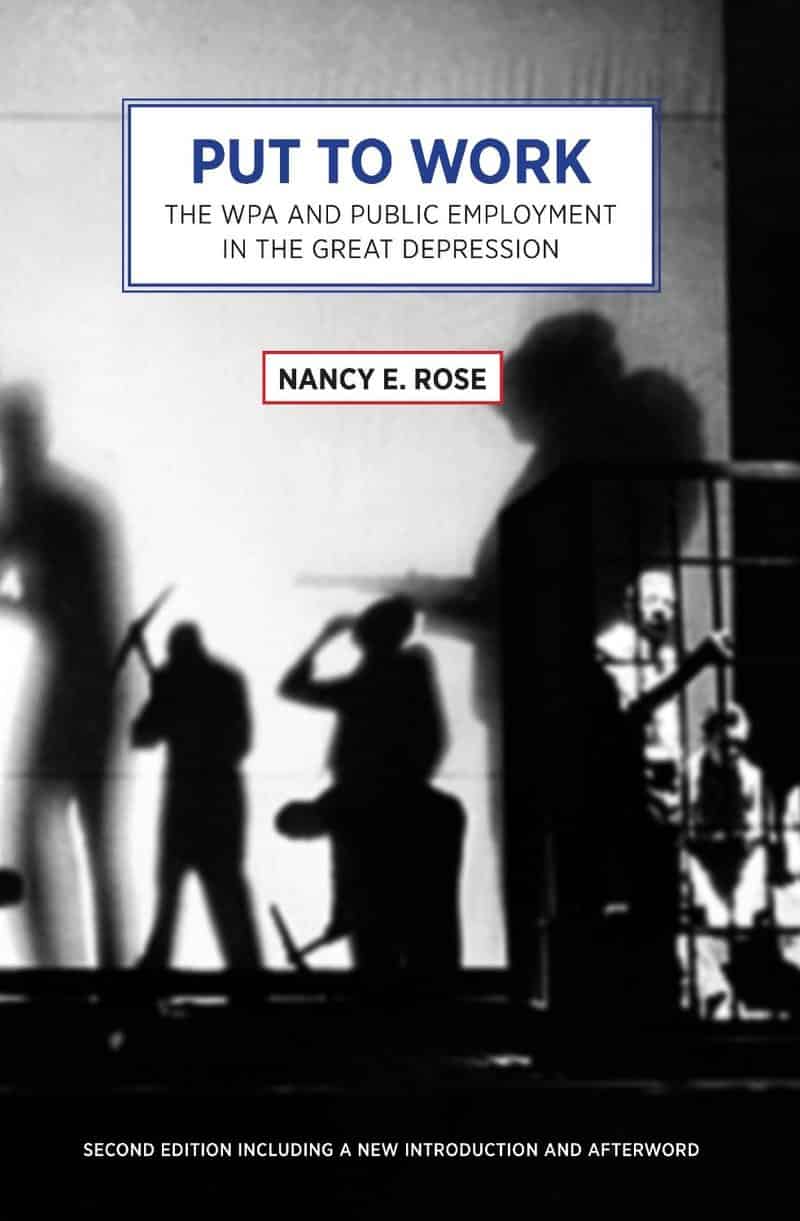 Paperback, 160 pages
ISBN-13: 978-1-58367-206-8
Released: October 2010
With unemployment surging to record levels and the economy in freefall, experts are looking to the Great Depression for lessons in stimulating job creation. Then, as now, the system was unable to provide the jobs and financial support desperately needed by millions of people. But then—in the 1930s—the state intervened to create massive employment programs that put people to work on socially useful projects in states, cities, and towns across the country. The scope of these programs was unprecedented and never repeated in the decades that followed. Today, as the severity of the economic crisis increasingly resembles that of the Great Depression, the time for a reappraisal of the New Deal employment programs has never been more necessary.
Put To Work tells the story of the massive government job-creation programs of the 1930s—not only the Works Progress Administration (WPA), but also the lesser known Federal Emergency Relief Administration (FERA) and Civil Works Administration (CWA), which set the framework for the ideological and policy battles that followed. Nancy E. Rose details the development of these programs, the pressures that surrounded them, and the resulting constraints. She analyzes both their unique contributions and their shortcomings, especially in their treatment of women and African-Americans. In the process, she carefully reevaluates the charges that these were inefficient "make-work" programs, or "boondoggles," charges that continue to characterize job-creation programs to this day.
In her new introduction, Rose places the Obama administration's economic stimulus package in historical perspective as part of this tradition of government job creation programs. In her new Conclusion, she explores lessons from the New Deal work programs for the current era.
This is a must read for anyone concerned about today's mass unemployment and the chronic unemployment that persists between recessions. Rose carefully describes, analyzes, and evaluates the New Deal job programs—their shortcomings and contradictions as well as their very great accomplishments. Government job creation, says Rose, can be used to alleviate unemployment in our time and can simultaneously enhance our living standards by providing much-needed human services as well as physical infrastructure. She provides useful guidelines that can help us avoid the weaknesses and build on the strength of these past programs.
Co-founder of the National Jobs for All Coalition and co-chair of the Columbia University Seminar on Full Employment, Social Welfare and Equity
Illuminating to scholars, students, the general public, and feminist and civil rights advocates, Put to Work stands out among Depression-era studies for its vivid descriptions and comparisons of all three major New Deal work programs: the Federal Emergency Relief Administration (FERA), the Civil Works Administration (CWA), and the Works Progress Administration (WPA). Rose pulls no punches about the racism and sexism of all three and the inefficiency arising from the very mandate to use rather than save labor. Yet, in telling the other side of the story—their myriad contributions to our physical, cultural, and human resources—Rose leads us to regret that government work programs have never become permanent supplements to a private enterprise system incapable of employing all who want to work.
Adelphi University School of Social Work
Chair, National Jobs for All Coalition
In the midst of the worst economic downturn since the Great Depression, this new edition of Nancy Rose's classic study of New Deal-era jobs programs is exactly right on time. Put to Work is not history for history's sake; the author's critical evaluation of the strengths and weaknesses of the WPA and other relief programs of the 1930s gleans crucial lessons for public policy today. Rose's well-written and carefully researched monograph demonstrates that there is no single policy with more potential social and economic benefits than direct job creation.
University of Missouri, Kansas City
Even as our current economic recession has catalyzed renewed attention to the lessons of the Great Depression, there is one set of lessons that seems to have escaped our current policy makers—those are the lessons described in Rose's Put to Work. Government as the engine of direct job creation was—and still can be—a force for tremendous good. The ingenuity and creativity that resulted from the New Deal jobs programs left this country with a rich legacy of long-lasting cultural, artistic, and infrastructural artifacts even as they gave hope, purpose, needed goods and incomes to millions. This is a must read for anyone concerned about our current economic plight!
Co-founder, National Jobs for All Coalition
Rose offers an important perspective on how past nation-saving programs can be useful in solving current unemployment and homeless problems.