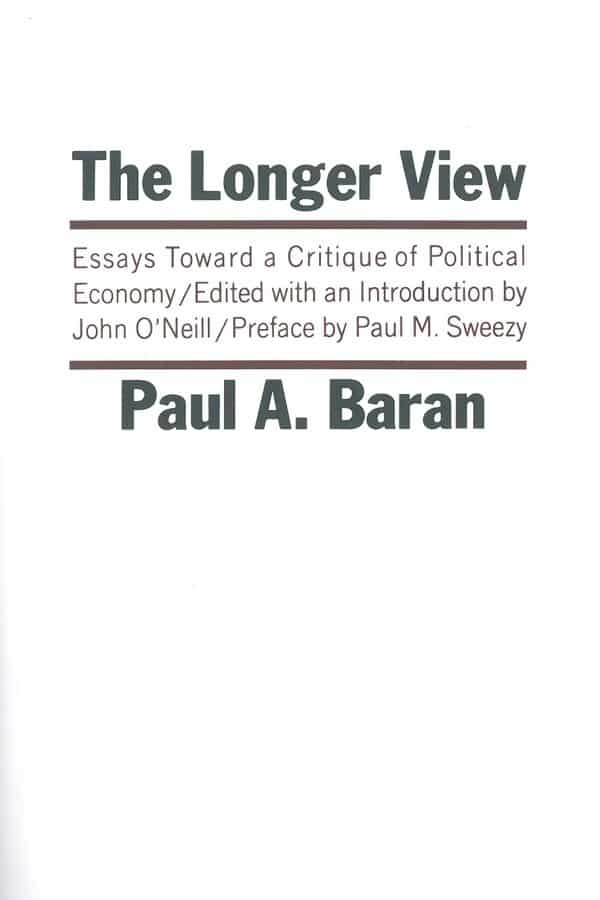 Paperback, 444 pages
ISBN: 978-0-85345-220-1
Released: 1969
These essays by the author of The Political Economy of Growth and co-author of Monopoly Capital cover the working range of a strong and original mind. They are as diverse as his well-known discussion of Marxism and psychoanalysis, and his expert handling of the politics and economics of development. The five parts of the book contain six articles on Marxism, three on economic planning, five on monopoly capitalism, and four on the political economy of growth. Among them are included his "Reflections on Underconsumption," "The Theory of the Leisure Class," "Reflections on the Cuban Revolution," the "Theses on Advertising" he wrote with Paul Sweezy, and the important analysis of W. W. Rostow's The Stages of Economic Growth written with E. J. Hobsbawm.
The themes of Baran's major works were expressed in these shorter essays with a vigor and personal style that preserves much of the flavor of Baran's day-to-day reflections. They display, as John O'Neill says in his introduction, "a breadth of sociological and economic analysis which represents a unique conquest of mind in its ability to situate itself in an environment where disorientation and abdication threaten many social thinkers."
The Longer View contains some brilliant examples of Marxian analysis at its best—a flexible, imaginative, sometimes eclectic, yet generally dependable guide to the history of man's struggle to build a more humane social order.
Baran remains one of the few interesting and durable American social critics of the cold-war period. Combining the personal resources of a highly disciplined mind with a powerful critical method, he focused on the most crucial problems of his time: the emerging patterns of world history.
A rich and varied compendium … Refreshingly original and undogmatic, Baran wielded his weapons with a cool and critical reason.
I believe it is not necessary to give evidence of the admiration I felt for Compañero Baran, as well as for his work on underdevelopment, which was so constructive in our present and still weak state of economic knowledge.
This kind of scholarship and intelligence demands courage.