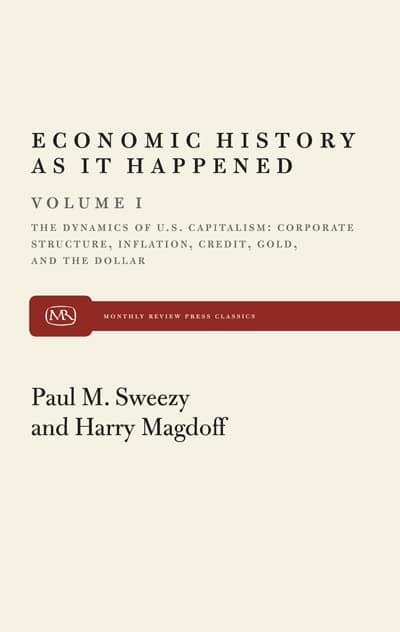 Paperback, 237 pages
ISBN-13: 978-0-85345-225-6
Released: January 1972
This is the first of the series of four collections of essays in which Paul M. Sweezy and Harry Magdoff, the editors of Monthly Review, chronicled, as it was taking place, the development of U.S. and global capitalism from the end of its "golden age" in the late 1960s to the full onset of the financial explosion of the early 1990s and after.
The problems of capitalist finance and the evolution of corporate structure are from the first the subject of their analysis. With exceptional clarity, the authors explain basic economic principles and bring them to life with concrete examples drawn from the daily workings of the corporations and the financial markets, and the international monetary system.
The unique feature of these essays, however, is the point of view of the authors. Unlike almost all others possessing their kind of technical expertise, they view these matters not from the standpoint of the academic scholar or the capitalist–oriented advisor, but from the standpoint of society. It is this socialist or Marxist approach, combined with expert knowledge and superior pedagogical talent, which enabled them to pinpoint and illuminate the central trends and developments of an entire epoch, an achievement hardly to be found in all of "official" economics.
In this volume their discussion of corporate "liquidity" reveals a trend of great significance developing since World War II, and no other brief presentation of emerging corporation merger and multination developments match the ones contained in this book for clarity, penetration, and social significance. The chronological series of articles that cover inflation, international trade, gold, and the dollar, brilliantly set the stage for understanding the events of the ensuing decades.