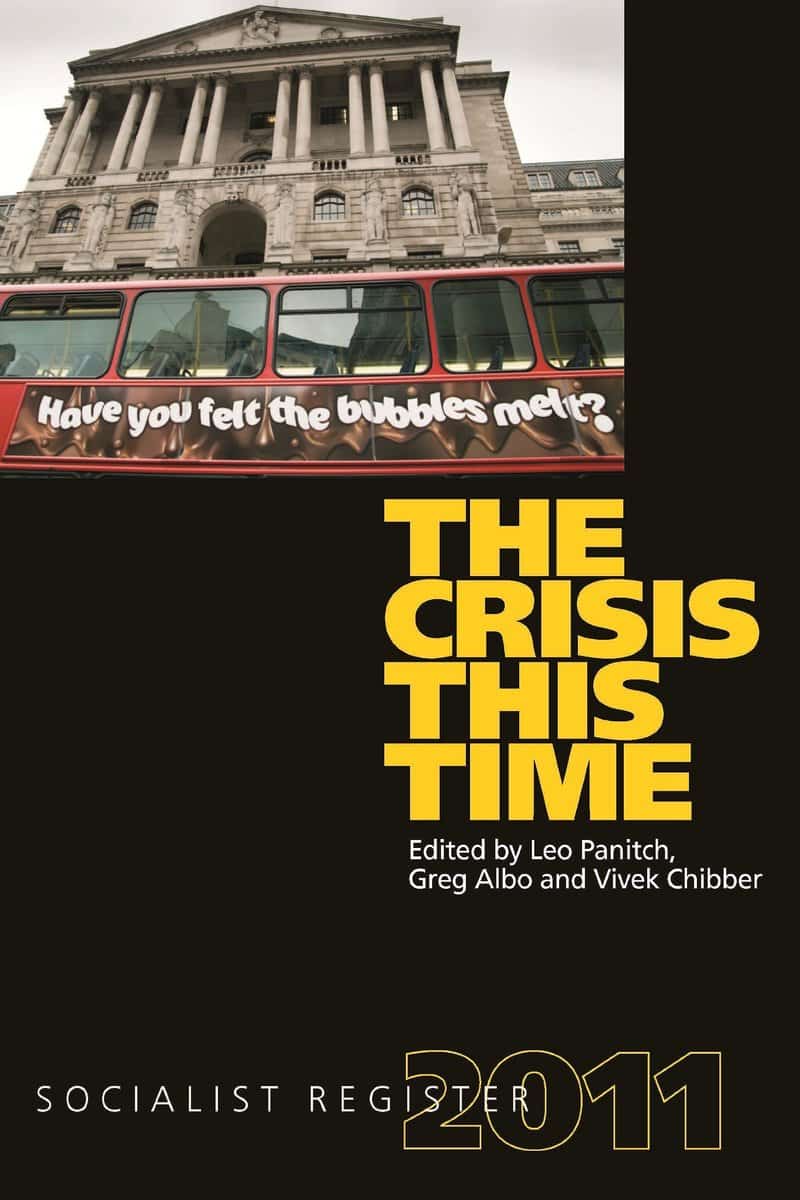 Paperback, 296 pages
(ISBN-13: 978-1-58367-228-0)
Released: December 2010
There is no MR Associate Discount on Socialist Register titles.
The global economic crisis that closed the first decade of the 21st century has demonstrated that the contradictions of capitalism cannot be overcome. The challenge for socialist analysis is to reveal both the nature of these contradictions in the neo-liberal era of globalized finance, and their consequences in our time. Crises need to be understood as turning points that open up opportunities. How to facilitate this is the sharpest challenge posed to socialists by the most severe global economic crisis since the 1930s.
What implications does the crisis this time have in terms of capitalist economic and political restructuring? Does it portend the end of neo-liberalism? Can working classes reverse the pattern of defeat in recent decades, build new capacities, and impose their own template for types of economic and political renewal that can put back on the agenda the need to transcend capitalism itself? What additional costs will they be expected to bear as capitalists states prepare their 'exit strategies'? This edition of the Socialist Register addresses these questions and more with typically wide-ranging analysis from contributors around the globe.
This timely, highly illuminating collection…presents a systematic and rigorous treatment of the intractable recent financial crisis….highly recommended.
Quite wonderful. The very first Socialist Registers were socialist foundation stones for my own learning, and this one should be for the young generation.
Table of Contents
"Socialist Register 2011 Preface" by Leo Panitch, Gregory Albo, Vivek Chibber
"Capitalist Crises and the Crisis this Time" by Leo Panitch, Sam Gindin
"Confronting the Crisis: A Class Analysis" by Hugo Radice
"The First Great Depression of the 21st Century" by Anwar Shaikh
"Caught in the Whirlwind: Working-Class Families Face the Economic Crisis" by Johanna Brenner
"Before and After Crisis: Wall Street Lives On" by Doug Henwood
"Opportunity Lost: Mystification, Elite Politics and Financial Reform in the UK" by Julie Froud, Michael Moran, Adriana Nilsson, Karel Williams
"The Global Crisis and the Crisis of European Neomercantilism" by Riccardo Bellofiore, Francesco Garibaldo, Joseph Halevi
"A Loyal Retainer? Japan, Capitalism, and the Perpetuation of American Hegemony" by R. Taggart Murphy
"The Crisis in South Africa: Neoliberalism, Financialization and Uneven and Combined Development" by Sam Ashman, Ben Fine, Susan Newman
"Deriving Capital's (and Labour's) Future" by Dick Bryan, Michael Rafferty
"Cannibalistic Capitalism: The Paradoxes of Neoliberal Pension Securitization" by Susanne Soederberg
"Crisis in Neoliberalism or Crisis of Neoliberalism?" by Alfredo Saad-Filho
"The Crisis, the Deficit, and the Power of the Dollar: Resisting the Public Sector's Devaluation" by Karl Beitel
"From Rescue Strategies to Exit Strategies: The Struggle over Public Sector Austerity" by Gregory Albo, Bryan Evans
"The Centre Cannot Hold: Rekindling the Radical Imagination" by Noam Chomsky