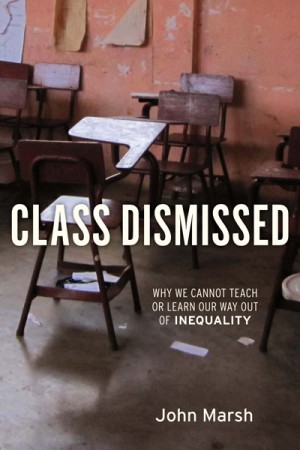 Paperback, 328 pages
ISBN-13: 978-1-58367-243-3
Cloth (ISBN-13: 978-1-58367-244-0)
Released July 2011
Also available as an e-book
In Class Dismissed, John Marsh debunks a myth cherished by journalists, politicians, and economists: that growing poverty and inequality in the United States can be solved through education. Using sophisticated analysis combined with personal experience in the classroom, Marsh not only shows that education has little impact on poverty and inequality, but that our mistaken beliefs actively shape the way we structure our schools and what we teach in them.
Rather than focus attention on the hierarchy of jobs and power—where most jobs require relatively little education, and the poor enjoy very little political power—money is funneled into educational endeavors that ultimately do nothing to challenge established social structures, and in fact reinforce them. And when educational programs prove ineffective at reducing inequality, the ones whom these programs were intended to help end up blaming themselves. Marsh's struggle to grasp the connection between education, poverty, and inequality is both powerful and poignant.
Marsh's forceful, erudite treatment lays bare the fact that the U.S. seems largely unwilling to change underlying social structures that sustain poverty and inequitable life chances….the drumbeat of his important message needs to be amplified in a nation widely deaf to it. Highly Recommended.
This well-researched and well-argued book chillingly illustrates the toxic effects of growing inequality in contemporary U.S. society by revealing how educational opportunity and the myth of meritocracy carries more of people's hopes and dreams than its shoulders can bear. Class Dismissed is a powerful treatise towards explaining the hidden and not-so-hidden costs of economic inequality and why abolishing poverty would be the best thing we can do to increase equality of educational opportunity…. John Marsh makes a bold and courageous case for a politics of economic justice.
Los Angeles
At a moment when the increasing inequality of American life is almost universally blamed on the failures of our schools, nothing could be more timely than this powerful demonstration that bad education has not produced the growing gap between the rich and the poor and that better education will not reduce it. If you really want less poverty, Marsh argues, don't give poor people more advanced degrees, give them more money—and help them join unions.
John Marsh asks some uncomfortable but necessary questions about the current drive for mass college education. In a clear, persuasive, and troubling account, he shows that education is not the cure-all, as it is advertised by many across political lines. A must-read for those thinking about higher education.