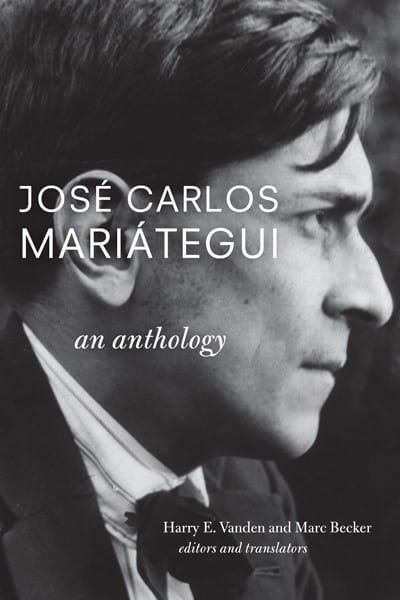 Paperback, 480 pages
ISBN-13: 978-1-58367-245-7
Cloth (ISBN-13: 978-1-58367-246-4)
Released: October 2011
Also available as an e-book
José Carlos Mariátegui is one of Latin America's most profound but overlooked thinkers. A self-taught journalist, social scientist, and activist from Peru, he was the first to emphasize that those fighting for the revolutionary transformation of society must adapt classical Marxist theory to the particular conditions of Latin America. He also stressed that indigenous peoples must take an active, if not leading, role in any revolutionary struggle.
Today Latin America is the scene of great social upheaval. More progressive governments are in power than ever before, and grassroots movements of indigenous peoples, workers, and peasants are increasingly shaping the political landscape. The time is perfect for a rediscovery of Mariátegui, who is considered an intellectual precursor of today's struggles in Latin America but virtually unknown in the English-speaking world. This volume collects his essential writings, including many that have never been translated and some that have never been published. The scope of this collection, masterful translation, and thoughtful commentary make it an essential book for scholars of Latin America and all of those fighting for a new world, waiting to be born.
Thanks to Monthly Review Press, a fully representative anthology of José Carlos Mariátegui is finally available to the English-speaking public. It will now be possible to discover a thinker who not only was the pioneer of Marxist analysis of Peru and Latin America, and the dreamer of an Indo-American Socialism as the only real alternative to imperialist domination, but one of the great universal Marxist authors of the twentieth century, comparable, by the originality of his heterodox revolutionary writings, to the contemporary (i.e. 1920s) works of Lukács and Gramsci.
The critical and fertile theoretical revision of Marxism carried out by José Carlos Mariátegui (1894-1930) has been for too long sorely missing in the archives of the English speaking public. This anthology is an intelligent and welcomed selection from his complete works. It offers readings beyond the seminal 'Seven Interpretative Essays on Peruvian Reality' (1971). Mariátegui's original ability to establish a dialogic plane of thought in which Marxism bends and responds in relation to local knowledges is only comparable to the theoretical achievements of Antonio Gramsci. Mariátegui's disciplined prose illuminates the 'real' with unique and powerful insights of particular relevance for thinking our own current crisis.
The editors of this marvelous collection tell us that the supple yet penetrating writings of José Carlos Mariátegui were deemed 'of questionable Marxist orthodoxy' by a Stalinist critic of the 1940s. Indeed they are! This is their great strength, since such 'orthodoxy' is the opposite of the expansive vision and critical edge one finds in genuine Marxism, qualities abundantly present in the contributions of this great Peruvian revolutionary. This much-needed volume is a gift, facilitating the international renewal and enrichment of revolutionary Marxism in the twenty-first century.
This anthology is by far the most comprehensive collection of writings by one of the most creative Marxist thinkers of the twentieth century. In addition to stressing those aspects of Mariátegui's life particularly conducive to his intellectual constructions, Vanden and Becker's in-depth introductory essay correctly points to the persistent relevance of Mariátegui to a full understanding of current developments in Latin American politics, economies, and societies—such as the increasing political efficacy of indigenous movements or the renewed strength of socialist and anti-imperialist struggles—as well as the current world crisis of capitalism. I strongly recommend this book to those involved in academic life from a critical perspective of contemporary domestic and international affairs, as well to political activists and to anyone interested in expanding his or her political culture from a progressive standpoint.
Mariátegui died in 1930 at the very young age of 36, both his political and intellectual ambitions notably unfulfilled. Today, some two decades after the collapse of the Soviet Union and the regimes and parties of "actually existing socialism," a majority of the population of Latin America are represented by democratically elected governments that identity themselves as "socialist" in one way or another. Whether these governments are "really" socialist and what will become of them is a matter of debate; but it is worth noting that the only place in the world today where socialism, even as a rhetorical gesture, is on the agenda is Latin America. Why this is the case is due in part to the heritage of Mariátegui's extremely original and radical reframing of Marxism. This makes the publication of this comprehensive anthology of his work so timely. It is an event for English-language readers interested in radical thought comparable to the appearance of the Selections from Gramsci's Prison Notebooks in the late 1960s.