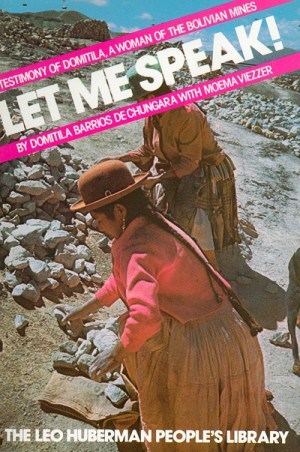 Paperback, 235 pages
ISBN: 0-85345-485-X
Released: January 1978
First published in English in 1978, this classic book contains the testimony of Domitila Barrios de Chungara, the wife of a Bolivian tin miner. Blending firsthand accounts with astute political analysis, Domitila describes the hardships endured by Bolivia's vast working class and her own efforts at organizing women in the mining community. The result is a gripping narrative of class struggle and repression, an important social document that illuminates the reality of capitalist exploitation in 1970s Bolivia.
The author is the courageous wife of a Bolivian tin miner. Social and economic deprivation drove her to pro-Marxist political action as a leader of a Housewives' Committee, dedicated to improving miners' and peasants' conditions. This is a vivid account of her activities and brutal imprisonment, accompanied by her observations on the clergy, military, and upper-class abandonment of Bolivia's repressed poor . . . This is a remarkably articulate report with astute political commentary . . . an important social document from a usually silent group.
Originally published in Spanish, the book had its beginning at the International Women's Year Tribunal in Mexico City in 1975, which Domitila attended as the Housewives' Committee of Siglo XX, the largest and most militant mining centre in Bolivia . . . . While there she met Moema Viezzer, a Brazilian journalist and the co-author of the book. Moema Viezzer has done a brilliant job of compiling the texts of conversations, dialogues, meetings, and interviews Domitila had with workers, students, revolutionaries, and exiles in Mexico. The result is an important and moving oral history in which Domitila speaks to us in her own powerful words about herself, her country, and her people . . . Let Me Speak! is a deeply political book, full of insights into the struggle of the Bolivian people. At the same time, it is a rich and profound oral history, which like all the best oral histories, is the story of a people as much as it is the story of an individual. It should be read by all.
A most lucid and moving account of a working class woman's life . . . working women's lives have been changed by reading this book.