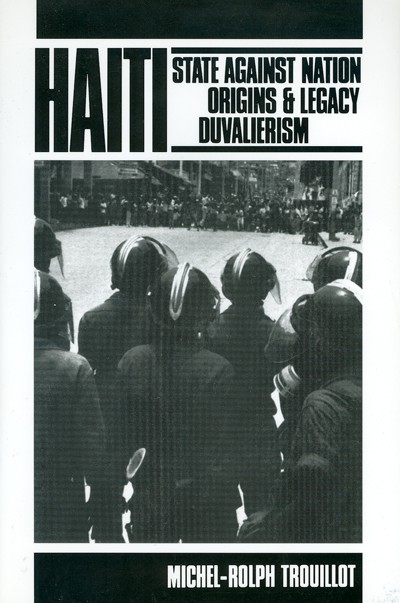 Paperback, 282 pages
ISBN: 0-85345-756-5
Released: January 1990
In the euphoria that followed the departure of Haiti's hated dictator, Jean-Claude Duvalier, most Haitian and foreign analysts treated the regimes of the two Duvaliers, father and son, as a historical nightmare created by the malevolent minds of the leaders and their supporters. Yet the crisis, economic and political, that faces this small Caribbean nation did not begin with the dictatorship, and is far from being solved, despite its departure from the scene. In this fascinating study, Haitian-born Michel-Rolph Trouillot examines the mechanisms through which the Duvaliers ruthlessly won and then held onto power for twenty-nine years.
Trouillot's theoretical discussion focuses on the contradictory nature of the peripheral state, analyzing its relative autonomy as a manifestation of the growing disjuncture between state and nation. He discusses in detail two key characteristics of such regimes: the need for a rhetoric of "national unity" coupled with unbridled violence. At the same time, he traces the current crisis from its roots in the nineteenth-century marginalization of the peasantry through the U.S. occupation from 1915 to 1934 and into the present. He ends with a discussion of the post-Duvalier period, which, far from seeing the restoration of civilian-led democracy, has been a period of increasing violence and economic decline.
An excellent analysis of Duvalierism, placed within a wide historical framework and preceded by a suggestive theoretical introduction. This is the best study on the subject so far.
Trouillot illuminates wonderfully the history and present condition of Haiti, a nation and a people too often slandered and vulgarized by the press. In my opinion no other writer of recent times has enabled us to grasp more intelligently and more usefully the importance of Haiti's past and the dilemmas of its present.