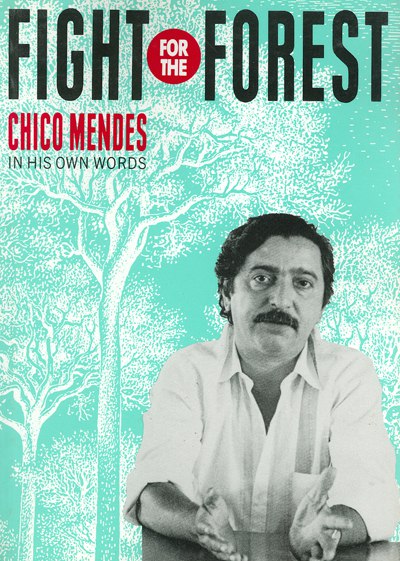 Paperback, 118 pages
ISBN: 0-85345-866-9
Released: May 1992
Additional Material by Tony Gross
"They would have to kill us all to destroy our movement and they can't. I don't get that cold feeling anymore. I am no longer afraid of dying."—Chico Mendes, November 1988
Chico Mendes, the charismatic founder of the Brazilian rubber tappers union, was murdered by a hired assassin on 22 December 1988. As a trade union leader, he won international acclaim for his role in the non-violent campaign to protect the Amazon rainforest, on which the rubber tappers depend for their livelihood.
In Fight for the Forest, Chico Mendes talks of his life's work in his last major interview. He recalls the rubber tappers' campaign against forest clearances and their struggle to develop sustainable alternatives for the Amazon.
In this updated edition, Tony Gross, environmentalist, expert on Amazonian affairs and a friend of Chico Mendes, follows the trial, conviction, and release of Chico's assassins and examines Brazil's environmental policy under President Fernando Collor de Mello.
Bound to become a classic. . . an excellent introduction to Brazil's first modern rainforest folk-hero.
…an inspirational and chilling message.
A short but vivid study… This is a book to show your friends, to influence people with, and to campaign with.
For a quick and informative read that deals with most of the important issues in a crisp fashion, you can't do better than Fight for the Forest.