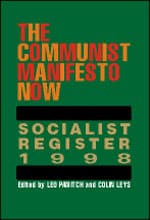 Paperback, 304 pages
ISBN: 0-85345-925-5
Released: November 1997
This book is out of print in the U.S.
There is no MR Associate Discount on Socialist Register titles.
One hundred and fifty years have passed since Karl Marx and Friedrich Engels, two young Germans in exile, wrote the Communist Manifesto.
Conventional wisdom has it that on the eve of the twenty-first century Marxism and socialism are vanquished doctrines, antiquated and outmoded by subsequent developments. Yet capitalism's global triumph has, paradoxically, laid bare its many inadequacies and failings: economic, spiritual, and environmental.
This volume of the SOCIALIST REGISTER uses the occasion of the Manifesto's anniversary to explore the origins of Marx and Engels' thought in the revolutionary currents of nineteenth-century Europe. That, however, is merely its starting point. The central focus of the collection is the profound relevance of the famous pamphlet today, a theme brilliantly explored in essays on such subjects as the relationship between the Communist Manifesto and contemporary political and democratic theory, the labor movement, feminism, the history of the left, environmentalism, and postmodernity.
The Socialist Register has been the intellectual lodestar for the international left since 1965.
Contents
DEAR DR. MARX: A LETTER FROM A SOCIALIST FEMINIST, Sheila Rowbotham
THE POLITICAL LEGACY OF THE MANIFESTO, Colin Leys & Leo Panitch
THE GEOGRAPHY OF CLASS POWER, David Harvey
SOCIALISM WITH SOBER SENSES: DEVELOPING WORKERS' CAPACITIES, Sam Gindin
UNIONS, STRIKES, AND CLASS CONSCIOUSNESS TODAY, Sheila Cohen & Kim Moody
PASSAGES OF THE RUSSIAN AND EASTERN EUROPEAN LEFT, Peter Gowan
MARX AND THE PERMANENT REVOLUTION IN FRANCE: BACKGROUND TO THE COMMUNIST MANIFESTO, Bernard Moss
THE COMMUNIST MANIFESTO AND THE ENVIRONMENT, John Bellamy Foster
REMEMBER THE FUTURE?: THE COMMUNIST MANIFESTO AS HISTORICAL AND CULTURAL FORM, Peter Osbourne
SEEING IS BELIEVING: MARX'S MANIFESTO, DERRIDA'S APPARITION, Paul Thomas
THE MAKING OF THE MANIFESTO, Rob Beamish
THE COMMUNIST MANIFESTO, Karl Marx and Friedrich Engels