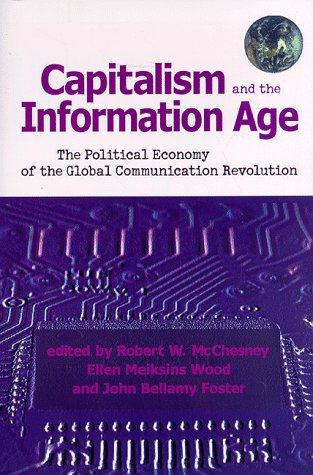 Paperback, 256 pages
ISBN: 0-85345-989-4
Released: January 1998
Not a day goes by that we don't see a news clip, hear a radio report, or read an article heralding the miraculous new technologies of the information age. The communication revolution associated with these technologies is often heralded as the key to a new age of "globalization." How is all of this reshaping the labor force, transforming communications, changing the potential for democracy, and altering the course of history itself? Capitalism and the Information Age presents a rigorous examination of some of the most crucial problems and possibilities of these novel technologies. Taken together, the essays reveal how the new information technologies have been grafted onto a global capitalist system characterized by vast and growing inequality, economic stagnation, market saturation, financial instability, urban crisis, social polarization, graded access to information, and economic degradation.
Contents & Contributors
The Political Economy of Global Communication by Robert W. McChesney
Modernity, Postmodernity, or Capitalism? by Ellen Meiksins Wood
Virtual Capitalism by Michael Dawson and John Bellamy Foster
Democracy and the New Technologies by Ken Hirschkop
Global Village or Cultural Pillage? The Unequal Inheritance of the Communications Revolution by Peter Golding
The U.S. Rules, OK?: Telecommunications Since the 1940s by Jill Hills
The Privatization of Telecommunications by Nicholas Baran
Selling Our Children: Channel One and the Politics of Education by Michael W. Apple
Challenging Capitalism in Cyberspace: The Information Highway, the Postindustrial Economy, and People by Heather Menzies
Work, New Technology, and Capitalism by Peter Meiksins
Fighting Neoliberalism in Canadian Telecommunications by Elaine Bernard and Sid Schniad
Propaganda and Control of the Public Mind by Noam Chomsky
The Propaganda Model Revisited by Edward Herman
Information Technology and Socialist Self-Management by Andy Pollack
Anyone concerned about the direction the information revolution is taking should read this book. The subjects covered are far-ranging… [The] essays are clearly written, making the book accessible to a broad range of readers. In short, highest recommendation…
Explains in very concrete terms how the global communication revolution is still firmly controlled by capital, and that the 'freedom' of expression we enjoy today is really shaped by a few mega-corporations who own virtually all of the media and entertainment industries.