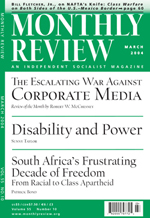 March 2004, Volume 55, Number 10
» Notes from the Editors
We were enormously pleased to publish in the November 2002 issue of MR Richard Lewontin and Richard Levins's "Stephen Jay Gould: What Does it Mean to Be a Radical?" commemorating the life of their great Harvard colleague who had died earlier that year. Gould, as Lewontin and Levins explained, was, in addition to being one of the foremost evolutionary biologists and paleontologists of his time, "by far, the most widely known and influential expositor of science who has ever written for a lay public." Their article has recently been reprinted as the concluding essay in Oliver Sacks, ed., The Best American Science Writing, 2003. This important series, with Jesse Cohen as the series editor, is published each year by HarperCollins, each time under the editorship of a different guest editor—in this instance Sacks, author of The Man Who Mistook his Wife for a Hat and many other works. In preparing this year's volume Sacks chose to dedicate the book to Stephen Jay Gould, who he sees as the exemplary figure in modern science writing… | more |
In 1996, Via Campesina, the recently formed international umbrella organization of grassroots peasant groups, introduced the term "food sovereignty": the right of peoples and states to democratically decide their own food and agricultural policies and to produce needed foods in their own territories in a manner reinforcing the cultural values of the people while protecting the environment… | more |
What Does it Mean to Be a Radical?
Early this year, Stephen Gould developed lung cancer, which spread so quickly that there was no hope of survival. He died on May 20, 2002, at the age of sixty. Twenty years ago, he had escaped death from mesothelioma, induced, we all supposed, by some exposure to asbestos. Although his cure was complete, he never lost the consciousness of his mortality and gave the impression, at least to his friends, of an almost cheerful acceptance of the inevitable. Having survived one cancer that was probably the consequence of an environmental poison, he succumbed to another… | more |
The Challenge of Sustainable Development and the Culture of Substantive Equality
Two closely connected propositions are at the center of this intervention: If development in the future is not sustainable development, there will be no significant development at all, no matter how badly needed; only frustrated attempts to square the circle, as in the last few decades, marked by ever more elusive "modernizing" theories and practices, condescendingly prescribed for the so-called Third World by the spokesmen of former colonial powers. The corollary to this is that the pursuit of sustainable development is inseparable from the progressive realization of substantive equality. It must also be stressed in this context that the obstacles to be overcome could hardly be greater. For up to our own days the culture of substantive inequality remains dominant, despite the usually half-hearted efforts to counter the damaging impact of social inequality by instituting some mechanism of strictly formal equality in the political sphere… | more |
Seeing the Forest and the Trees
Lost Woods: The Discovered Writing of Rachel Carson, edited and with an introduction by Linda Lear (Boston: Beacon Press, 1999), 288 pp., $16, paperback.
Lost Woods brings Rachel Carson back into the public realm. This collection of her writings, selected by her biographer, Linda Lear, reminds us yet again of the extraordinary range of her talents and the equally extraordinary use to which she put them. The book offers, in one modest volume, a taste of all the pleasures to be found in Carson's longer works. Through a careful choice of speeches, articles, field notes, and letters, presented in chronological order, Lear allows us to witness, in Carson's own words, her transformation from a natural scientist to a political advocate for the environment … | more |
Eileen Welsome, The Plutonium Files (New York: Dial Press, 1999), 564 pp., $26.95.
It is fitting that the "Atomic Century" draw to a close with the publication of The Plutonium Files. A decade in the making, Eileen Welsome's book explores the secret human radiation experiments that grew out of the U. S. atom bomb program. Carried out under the auspices of the Atomic Energy Commission (AEC), the Department of Energy's predecessor, the experiments were designed to help determine atom bomb plant safety standards and to replicate nuclear battlefield conditions. As a result, thousands of hospital patients and servicemen were unknowingly exposed to dangerous levels of radiation … | more |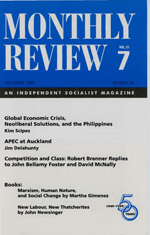 December 1999, Volume 51, Number 7
» Notes from the Editors
Recently, we were talking about the environment to a well-known sociologist and got into a fairly heated debate about the ecological effects of capitalism. He insisted that capitalism has nothing to do with it. All human practices, he said, inevitably affect the natural environment and have done so since the dawn of history. This seemed to us a pretty simplistic and ahistorical argument … | more |
James O'Connor, Natural Causes: Essays in Ecological Marxism (New York: Guilford, 1998), 350 pp., $19.95, paper.
One of the foremost Marxist social scientists in the United States, James O'Connor has produced many original insights into the political economy of the United States, and global capitalism. His Fiscal Crisis of the State (1973) revealed the structural roots of government deficit problems, and his subsequent work has focused on the development of a general theory of capitalist crisis. In Accumulation Crisis (1984) and The Meaning of Crisis (1987), he surveyed and synthesized alternative viewpoints on the economic, political, cultural and psychological crisis tendencies of late-twentieth century capitalism. Since 1988, when he co-founded the innovative "eco-Marxist" quarterly Capitalism, Nature, Socialism, O'Connor has expanded his vision of capitalist crisis and socialist movements to incorporate natural conditions more fully. Natural Causes gathers together O'Connor's major writings over this last period, providing an excellent opportunity to assess his considerable contribution to eco-Marxist theory and practice … | more |
John Gillot and Manjit Kumar, Science and the Retreat from Reason (Monthly Review Press, 1997), 288 pp., $18.
We live in a skeptical age. All of the basic concepts of the Enlightenment, including progress, science and reason are now under attack. At the center of this skepticism lie persistent doubts about science itself, emanating both from within and from without the scientific community. Recent titles by scientists give an idea of the extent of the crisis in confidence within science: Science: The End of the Frontier? (1991) by Nobel prize winner Leon Lederman; The End of Certainty (1996) by Nobel laureate Ilya Prigogine; and The End of Science (1996) by Scientific American writer John Horgan … | more |