What follows is a chapter from Nora Sayre's Running Time: Films of The Cold War (The Dial Press, 1982). We reprint it here not only to mark the untimely death of its author on August 8, but because it is a good example of a kind of radical cultural analysis distinguished by incisiveness as well as clarity, and, unfortunately, not often seen. In this selection, Sayre not only provides a critical examination of films that resisted the post-blacklist conformity of Hollywood, but she places them in the context of both larger social and historical forces, and the evolving corporate pressures of the movie business.… | more |
Telling the Story of Our America
Juan Gonzalez, Harvest of Empire: A History of Latinos in America(New York:Viking Penguin, 2000), 346 pp., $27.95 cloth, $15 paper.
With passion and eloquence, Juan Gonzalez presents a devastating perspective on U.S. history rarely found in mainstream publishing aimed at a popular audience. The United States emerged in just two hundred years, he points out, as the world's superpower and richest nation. "No empire, whether in ancient or modern times, ever saw its influence spread so far or determined the thoughts and actions of so many people around the world as our nation does today." The majority of U.S. people don't like to think of their country as an empire… | more |
2000 marks the fortieth anniversary of the southern sit-in movement, the emergence of the civil rights struggle of the 1960s, and the founding of its most dynamic component, the Student Nonviolent Coordinating Committee (SNCC). We believe it is important to look back at the achievements of those courageous men and women, both to celebrate their struggle and to learn from their experience. The following article is adapted from a talk originally given last summer at a seminar far college and university teachers, on the history of the civil rights movement at Harvard's W. E. B. Du Bois Institute for Afro-American Studies.—Eds.… | more |
Setting the Record Straight on the Korean War
Deane, Hugh, The Korean War, 1945-1953 (San Francisco: China Books and Periodicals, Inc., 1999), 246 pp., $14.95, paperback.
Hugh Deane has written a concise, political, and engaging history of the Korean war. One reason this book is special is that Deane was in southern Korea during the late 1940s as a reporter, and his experiences there enable him to provide a more immediate and personal perspective on events than one normally finds in histories of the Korean war … | more |
Tony Hiss, The View from Alger's Window: A Son's Memoir (New York: Alfred A. Knopf, 1999), 241 pp., $24, hardcover.
The View from Alger's Window is a fascinating book. Even if the father and son who share the stage in this memoir were completely anonymous, it would still be an absorbing story. Probably for most readers, however, and surely for almost all Monthly Review subscribers, the father's name will reverberate with what Jack Gelber's Nation review describes as a Nixon-manipulated "story of well-timed leaks, stage-managed press conferences, masterful misleading language." But as the author himself says, a major objective of his work is to "transform Alger Hiss from a case to a person." This he has certainly done … | more |
At the outset of this closely argued history of Mexican capitalism, James Cockcroft asks, "How long will the majority of Mexicans put up with being exploited on both sides of the Mexican-U.S. border? "… | more |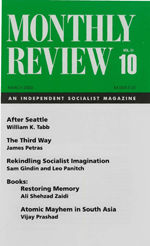 March 2000, Volume 51, Number 10
» Notes from the Editors
What do Helmut Kohl and Elián Gonzáles have in common? What could possibly unite the destinies of the huge former Chancellor of Germany, who for so many years dominated European politics and played the part of senior statesman on the global stage, and the little boy whose only political role so far has been as pawn in the hands of fading right-wing Cuban fanatics in Miami? … | more |
A Critique of Tabb on Globalization
Not only do we reject [so-called "weak" and "strong" versions of "globalization"], we reject the arguments used to support them, namely, that globalization has little basis in economic fact, is no more advanced than it was during the pre-1914 years, and has no significant political consequences. Our version, both "strong" and "nuanced," would be that since the early 1970s changes in technology and politics have greatly increased the ability of capital to do what it has always wanted to do—turn the world into one "free market" for finance, production, and wage labor. Ideologically strengthened by the collapse of communism, corporate capital has used its initiatory power in the realms of investment, employment, pricing, industrial location, and selective implementation of new technologies to leapfrog ahead of the ability of progressive forces to mobilize and fight back—which takes time, organization, and, if history teaches us anything, decades of struggle. This is not exactly the first time workers, and the entire left, have faced this situation; nor is it the first time that capital has been able to use the nation-state to accomplish its ends easier and faster, this time in significant measure through the creation of supranational institutions promoting the needs of transnational finance and production (NAFTA, EU, WTO, MAI, and multilateral trade agreements, including the latest "Uruguay Round")… | more |
In 1902, the Rationalist Press Association issued a pamphlet entitled A New Catechism. Like the classic Roman Catholic statement of belief on which it was modeled, the document comprised a long list of questions and answers. However, the faith which it rehearsed was not belief in Christianity, but rather belief in secular human reason. The pamphlet opened with a stirring dedication:
We baptize the twentieth century—in the name of Peace, Liberty, and Progress! We christen her—the People's Century. We ask of the new century a Religion without superstition; Politics without war; Science and the arts without materialism; and wealth without misery or wrong!… | more |