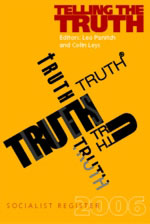 Paperback, 352 pages
ISBN:
1-58367-137-4
Released: November 2005
Since 1964, The Socialist Register has brought together leading writers on the left to investigate aspects of a common theme. Telling the Truth: Socialist Register 2006 examines how contemporary social and political debate is structured, how ideas and ideologies come to inform policy making, research, education, and our conceptions of truth more generally.
It also discusses the role of the state in intellectual life and the media, and the role of think-tanks, foundations, political parties and global institutions such as the World Bank in the dissemination of knowledge and ideas. Such questions are not always at the center of public debate, but are essential to establishing freedom for critical thought and reflection and for the formation of a new generation of intellectuals.
Contributors include Terry Eagleton, Barbara Ehrenreich and Frances Fox Piven, Doug Henwood, Robert McChesney, and Michael Burawoy.