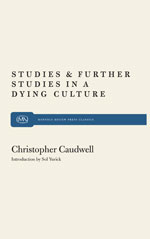 Paperback, 256 pages
ISBN-13:
978-0-85345-218-8
Released: January 1971
Introduction by Sol Yurick
In 1938, a year after his death in Spain at the age of twenty-nine, Christopher Caudwell's Studies in a Dying Culture was published, to be followed eleven years later by a second volume, Further Studies in a Dying Culture. This volume makes available both important works by one of the foremost Marxist critics of the thirties.
The first book consists of eight essays: on George Bernard Shaw, T.E. Lawrence, D. H. Lawrence, H. G. Wells, Sigmund Freud, and on pacifism and violence, love, and liberty.
The second is divided into five essays: "The Breath of Discontent: A Study in Bourgeois Religion," "Beauty: A Study in Bourgeois Aesthetics," "Men and Nature: A Study in Bourgeois History," "Consciousness: A Study in Bourgeois Psychology," and "Reality: A Study in Bourgeois Philosophy."
John Strachey said of Caudwell's work as exemplified by these essays: "He shows a width of perception, a generosity of sympathy, a capacity to understand motive forces that move the minds of men. He shows an ability to use his Marxian insight into impersonal social forces in order to gain an understanding of the tragedies of individual men."