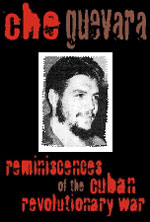 Paperback, 256 pages
ISBN:
0-85245-227-X
Released: January 1998
Within a year after the triumphal entry into Havana at the beginning of 1959, Che Guevara began to set down the history of the guerrilla war. Fearful that the events would "dissolve into the past" and that an important part of the history of America would be lost, he urged other leaders of the Revolution to do the same, asking only "that the narrator be strictly truthful."
His history of the war appeared episodically during the next few years in various Cuban periodicals such as Verde Olivo and Bohemia. In 1963, the Havana publishing house Ediciones Unión collected nineteen episodes under the title Pasajes de la Guerra Revolucionaria. This volume, originally published in 1968, contains diagrams of several battles, photographs, and maps of the guerrilla itinerary in the Sierra Maestra.
The introduction by Fidel Castro consists of the text of his speech in memory of Guevara at the Plaza de la Revolución in 1967. "He wrote with the virtuosity of a master of our language," said Castro. "His narratives of the war are incomparable. The depth of his thinking is impressive. He never wrote about anything with less than extraordinary seriousness, with less than extraordinary profundity—and we have no doubt that some of his writings will pass on to posterity as classic documents of revolutionary thought."
Reflects the life of an extraordinary and important man.
Guevara is a brilliant, thoughtful writer. He is lucid, candid, and revealing…. If Guevara had spent his time at the typewriter instead of leading revolutionaries, then this world would be hailing a new giant in literature.
Guevara left behind writing that will endure among the best of revolutionary literature.