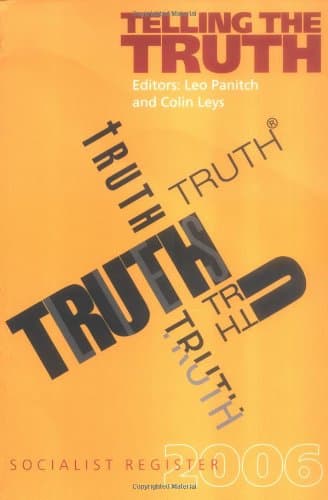 For many years, Monthly Review Press has helped to distribute the venerable Socialist Register, an annual volume of invaluable analysis founded by Ralph Miliband and John Saville in 1964.
We're pleased to offer this particularly outstanding edition, Telling the Truth, as our July Book of the Month. Featuring contributions from Frances Fox Piven, Barbara Ehrenreich, Terry Eagleton, G.M. Tamás, Robert W. McChesney, Doug Henwood, Ben Fine, and others, this volume examines the problem of truth—or lack thereof—in a variety of contexts.
Paperback, 352 pagesISBN:
1-58367-137-4
Released: November 2005
There is no MR Associate Discount on
Socialist Register
titles.
Use the coupon code TRUTH2014 at checkout and receive 35% off your order.
Mike Davis: "The Socialist Register has been the intellectual lodestar for the international left since 1964."
Noam Chomsky: "I know the Register very well and have found it extremely stimulating, often invaluable."
Daniel Singer: "Compulsory reading for people who refuse to be resigned to the idea that there can be no alternative to our unacceptable society."
TABLE OF CONTENTS
Leo Panitch and Colin Leys, "Preface"
Colin Leys, "The Cynical State"
Atilio A. Boron, "The Truth about Capitalist Democracy"
Doug Henwood, "The 'Business Community'"
Frances Fox Piven & Barbara Ehrenreich, "The Truth about Welfare Reform"
Loic Wacquant, "The 'Scholarly Myths' of the New Law and Order Doxa"
Robert W. McChesney, "Telling the Truth at a Moment of Truth: U.S. News Media and the Invasion and Occupation of Iraq"
David Miller, "Propaganda-Managed Democracy: The UK and the Lessons of Iraq"
Ben Fine & Elisa Van Waeyenberge, "Correcting Stiglitz: From Information to Power in the World of Development"
Sanjay G. Reddy, "Counting the Poor: The Truth about World Poverty Statistics"
Michael Kustow, "Playing with the Truth: The Politics of Theatre"
John Sanbonmatsu, "Postmodernism and the Corruption of the Academic Intelligentsia"
G.M. Tamás, "Telling the Truth about Class"
Terry Eagleton, "On Telling the Truth"