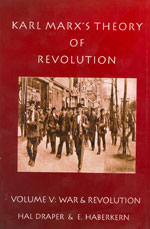 Paperback, 295 pages
ISBN:
1-58367-138-2
Released: January 2010
"This fifth volume in Hal Draper's magnificently lucid account of Marx's politics is just as enlightening, tough-minded, and encyclopedic as the volumes that preceded it. Draper—whose posthumous drafts for this volume have been ably polished and completed by his long-time collaborator Ernie Haberkern—was one of the greatest Marx scholars ever. Do you want to know what Marx really said and thought about war and revolution, after 150 years of partisan mudslinging and misreading? Draper knows—and in this volume he shares his knowledge with consummate precision, unfailing insight, and no-nonsense good cheer." —David N. Smith, University of Kansas
There is no MR Associate Discount on this item.