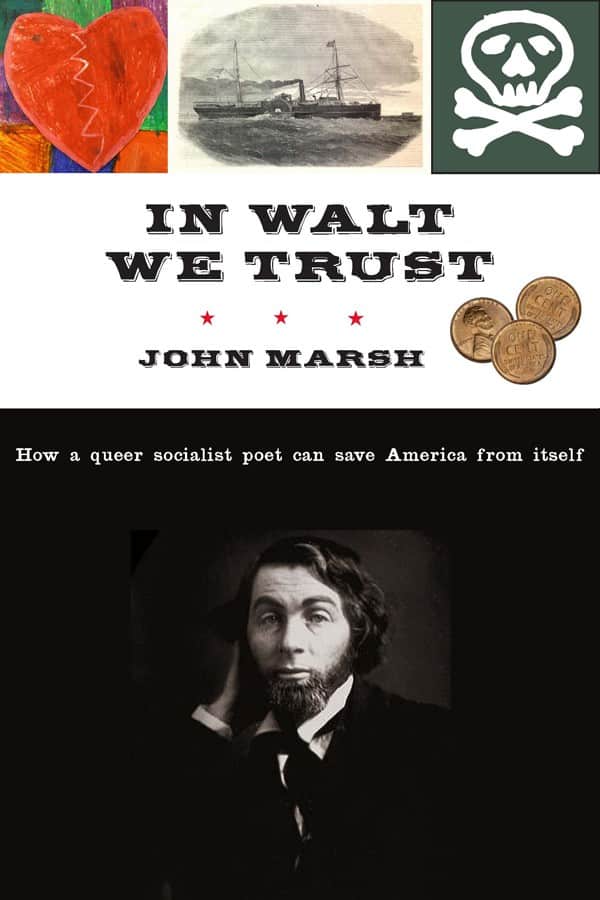 256 pages
Cloth ISBN:
978-1-58367-475-8
Forthcoming in February 2015
e-book available!
Life in the United States today is shot through with uncertainty: about our jobs, our mortgaged houses, our retirement accounts, our health, our marriages, and the future that awaits our children. For many, our lives, public and private, have come to feel like the discomfort and unease you experience the day or two before you get really sick. Our life is a scratchy throat. John Marsh offers an unlikely remedy for this widespread malaise: the poetry of Walt Whitman. Mired in personal and political depression, Marsh turned to Whitman—and it saved his life. In Walt We Trust: How a Queer Socialist Poet Can Save America from Itself is a book about how Walt Whitman can save America's life, too.
Marsh identifies four sources for our contemporary malaise (death, money, sex, democracy) and then looks to a particular Whitman poem for relief from it. He makes plain what, exactly, Whitman wrote and what he believed by showing how they emerged from Whitman's life and times, and by recreating the places and incidents (crossing Brooklyn ferry, visiting wounded soldiers in hospitals) that inspired Whitman to write the poems. Whitman, Marsh argues, can show us how to die, how to accept and even celebrate our (relatively speaking) imminent death. Just as important, though, he can show us how to live: how to have better sex, what to do about money, and, best of all, how to survive our fetid democracy without coming away stinking ourselves. The result is a mix of biography, literary criticism, manifesto, and a kind of self-help you're unlikely to encounter anywhere else.
Table of Contents
Introduction: The Pilgrimage
Chapter One: Congratulations! You're Dead!
Chapter Two: Walt Whitman's Credit Report Looks Even Worse than Yours
Chapter Three: With Walt Whitman, Making It Rain
Chapter Four: Affection Shall Solve the Problems of Freedom
Epilogue: At Whitman's Tomb
Praise for Class Dismissed:
Marsh's forceful, erudite treatment lays bare the fact that the U.S. seems largely unwilling to change underlying social structures that sustain poverty and inequitable life chances….the drumbeat of his important message needs to be amplified in a nation widely deaf to it. Highly Recommended.
A powerful treatise towards explaining the hidden and not-so-hidden costs of economic inequality and why abolishing poverty would be the best thing we can do to increase equality of educational opportunity…. John Marsh makes a bold and courageous case for a politics of economic justice.
At a moment when the increasing inequality of American life is almost universally blamed on the failures of our schools, nothing could be more timely than this powerful demonstration that bad education has not produced the growing gap between the rich and the poor and that better education will not reduce it.
John Marsh asks some uncomfortable but necessary questions about the current drive for mass college education. In a clear, persuasive, and troubling account, he shows that education is not the cure-all, as it is advertised by many across political lines. A must-read for those thinking about higher education.