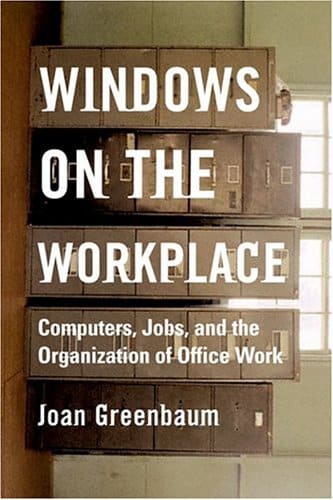 Paperback, 176 pages
ISBN: 1-58367-113-7
Released: May 2004
In this eye-opening book, Joan Greenbaum tells the story of changes in management policies, work organization, and the design of office information systems from the 1950s to the present. Windows on the Workplace takes us behind the news stories of the highly efficient, high-tech workplace and shows us the ways in which technologies—computers, mobile phones, the internet—have been adapted by management to reshape the way work is done. In tracing the introduction of new technologies, Greenbaum reveals how organizations use them to benefit from both increased profits and more intense control over the workforce.
Windows on the Workplace takes as its starting-point the experience of office workers and their own accounts of work. The book includes interviews with a wide range of workers, including young people entering workplaces in which the expectation of stable, long-term employment is no longer the norm. Greenbaum's approach is to locate their experiences and expectations within broader social and economic patterns, and to show how these patterns are constantly changing. The book traces the ways that freelance, part-time, and temporary work is created, and the form it takes as management outsources jobs around the world.
This book also exposes the myth that technology alone determines the way work is organized and outsourced. Greenbaum's rapid-paced prose highlights how all office work, including programming and web development, is being divided up into smaller parcels so that organizations can outsource the divided jobs out to new sources of cheaper labor. In exposing the myths about how technologies are really created, she gives readers some insight into alternatives. This updated edition offers ample evidence about how internet related jobs, skills and pay scales are not increasing as the media claims, as well as how work-time has expanded to fill work/commuting/entertainment and home life.
Joan Greenbaum is one of the sharpest writers on workplace technologies and their consequences for office workers. In this revised and updated edition she has brought the argument up-to-date by exploding many of the techno-myths of our time.
A lucid and authoritative account of the development of office work over the last half-century.
Provides a view of contemporary 'informated' working conditions that keeps sight of the persistent logics of capital, while also shedding new light on its most recent shifts and transformations. The clarity of Greenbaum's prose makes this book a sophisticated contribution to research, that will also be an invaluable aid in introducing students to these issues.
Center for Science Studies, Lancaster University, UK
Table of Contents
Preface to the New Edition
Through the Looking Glass
The 1950s and 1960s: Dawn of the Computer Age
The 1970s: The Office as the Factory of the Future
The 1980s: Stumbling Towards Automated Offices
The 1990s: Reengineering the Office
The 1990s: The Rise of the Internet
The Office of the Future may be Home
Shaking Off False Assumptions
Epilogue: Downsizing