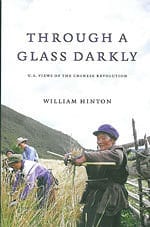 Paperback, 288 pages
ISBN: 1-58367-141-2
Released: July 2006
Through a Glass Darkly is William Hinton's final book. It draws on a lifetime of immersion in contemporary Chinese politics and society, beginning with the seven years he spent in China, working mainly in agriculture and land reform, until 1953. On his return to the United States in that year, Hinton first encountered the distortions and misrepresentations of the Chinese Revolution that he examines in this book.
Moving from large questions to concrete details, often drawn from his own experiences, Hinton brings everyday life in revolutionary China graphically to life. In a time when the distorted views first developed by U.S. critics of the Chinese Revolution are often propagated by the new Chinese elite themselves, Through a Glass Darkly has more than just historical relevance. For anyone wishing to understand present-day rivalries between the United States and China, Hinton shows how these began. This is a fitting completion of the work of a great scholar and revolutionary.
Praise for William Hinton's groundbreaking, Fanshen (more than 400,000 copies sold):
A vivid and compelling 'grass-roots' account of life.
An epic; one of the most important books about China which has been written since the Revolution. . . . For anyone who wants to understand anything about the Chinese revolution of our time, the reading of this book is an absolute necessity.
Table of Contents
Foreword: Why Write This Book?
Introduction: From Boardroom to Classroom
1. An Academic "People's Life Museum"
PART ONE: On Land Reform
2. Land Reform
Miscellaneous Spin Interlude I
3. Twists and Turns of Land Reform
Spin Interlude II: Land Reform and Related Matters
PART TWO: On Household Economy
4. The State versus Household Economy I: Prospects and Problems When Peasants Cooperate
Spin Interlude III: The State versus Household Economy
5. The State versus Household Economy II: The State Pushes All-Around Development
Spin Interlude IV: The State versus Household Economy (II)
6. The State versus Household Economy III: Whom Should the State Support?
Miscellaneous Spin Interlude V
PART THREE: On Culture
7. The State and Popular Culture
Spin Interlude VI: The State and Popular Culture
PART FOUR: Morality, Famine, Class Struggle
8. The State and Morality
9. The State and the "Great Famine"
10. Inside the Party Class Struggle