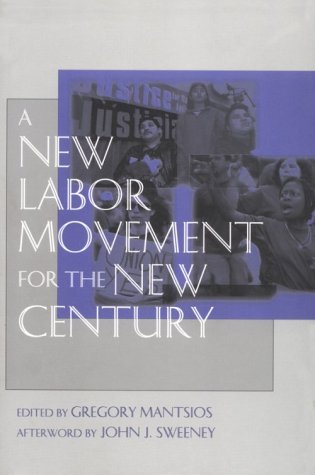 Paperback, 288 pages
ISBN: 0-85345-937-1
Released: January 1998
"Labor has finally awakened from a long, deep sleep." So declared one observer after the victory of John J. Sweeney's "New Voice" slate in the 1995 contest for leadership of the U.S. trade union federation, the AFL-CIO. Sweeney's team promised to make organizing its top priority, and new stirrings in labor have brought unprecedented media attention. With a surprisingly popular and victorious nationwide strike at United Parcel Service in 1997, hopes have risen for a new labor movement.
But have unions broken sufficiently from the policies and practices of the past to reverse their long decline in membership? How is labor responding to a workforce increasingly made up of women and people of color? What are the best tactics for organizing and mobilizing? What political alliances and international policies should labor pursue?
This collection charts the possibilities for a more vibrant, inclusive, and democratic labor movement. Participants include union leaders and rank-and-file activists, representing a wide variety of industrial, clerical, and service employees; scholars, teachers, and intellectuals; and both labor radicals and labor moderates.
The result is a dialogue of exceptional range and depth. In an afterword, AFL-CIO President John J. Sweeney replies to the assembled essays, relating the themes and criticisms found in them to his own vision for a revived labor movement.
This spirited collection is indispensable reading for anyone who wants to know what it will take for unions to inspire and mobilize a mass movement that will transform our nation, deepen our commitment to justice and democracy, and promote the inclusiveness that is key both to the labor movement and sustained economic growth.
Contents
Foreword by DAN GEORGAKAS
Introduction by GREGORY MANTSIOS
Part I: Democracy, Ideology, and Change
Creating Democratic Communities in the Workplace by ELAINE BERNARD
Whose Democracy? Organized Labor and Member Control by BILL FLETCHER, JR.
A "New Labor Movement" or the Shell of the Old? by JEREMY BRECHER and TIM COSTELLO
What Does Labor Stand For? by GREGORY MANTSIOS
Part 2: Organizing the Unorganized
Taking the Offensive, Turning the Tide by STEPHEN LERNER
Membership-Based Organizing by STEVE EARLY
Successful Organizing at the Local Level: The Experience of AFSCME District Council 1707 by JOSEPHINE LEBEAU and KEVIN LYNCH
Moving Innovation from the Margins to the Center by JANICE FINE
Part 3: Diversity and Inclusion
Women Workers: Strategies for Inclusion and Rebuilding Unionism by RUTH NEEDLEMAN
Getting Serious About Inclusion by JOSÉ LA LUZ and PAULA FINN
The Challenge of Diversity and Inclusion in the AFL-CIO by MAY CHEN and KENT WONG
Transforming Unions and Building a Movement by LARRY ADAMS
Part 4: Parties and Politics
Blocking Bridges: Class-Based Politics and the Labor Movement by PATRICIA LIPPOLD and BOB KIRKMAN
Labor's Role in the Political Arena by DENNIS RIVERA
Building a Party of Our Own by TONY MAZZOCCHI
The Politics of Leadership: The Role of Unions in Developing Policy Initiatives by ARTHUR CHELIOTES
Part 5: International Affairs
Developing and Enforcing International Labor Standards by BARBARA SHAILOR and GEORGE KOURPIAS
New Voice, New Internationalism by ANDY BANKS
International Labor Solidarity in an Era of Global Competition by HECTOR J. FIGUEROA
Building a Member-Based International Program by RON BLACKWELL
Afterword by John J. Sweeney