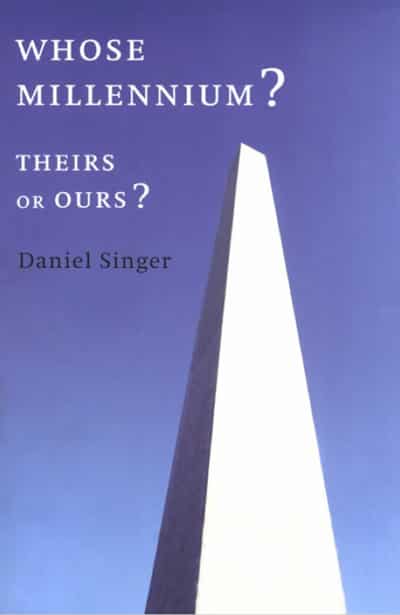 Paperback, 288 pages
ISBN: 0-85345-946-0
Released: January 1999
Written with droll wit and lyrical elegance, this visionary book challenges the chorus of resignation—the notion that there is no alternative, that profit is the best relationship between people, and that the market guarantees democracy. Daniel Singer insists that a more free and egalitarian society can be won, and he predicts that the new millennium will be an age of confrontation, not consensus, with Western Europe as a probable first battlefield.
In social criticism of rare scope and insight, Singer probes the outcome of the Russian Revolution and Russia's post-1989 turmoil, the transformation of the Polish trade union movement Solidarity into a reactionary and clerical force, the failure of social democracy in Western Europe, the emergence of an unbalanced world after the collapse of one superpower, and the massive 1995 strikes and demonstrations in France—which, Singer argues, were the first revolt against the prevailing idea that there is no alternative to market stringency.
As alternative, Singer calls for "realistic utopia": a politics engaged with present-day possibilities but daring to pursue a world beyond capitalism, one that would put into consistent practice the ideals of democracy and equality.
Are we doomed to accept history, instead of creating it? Clone days, routines of pain, injustice as Destiny? Whose Millennium? helps us to believe that tomorrow is not another name for today.
For many years Daniel Singer has been one of the best, and certainly the sanest, interpreter of things European for American readers. Now, in Whose Millennium?, he has expanded his—and our—horizon to give a view of what may be the next stage in humanity's zig-zag course toward, if not the stars, a new social balance. Also, thanks to his Balzacian eye for human detail, his prose is a delight to read—as ever.
Magisterial in its historical sweep, fiercely democratic in its vision, Whose Millennium? is the thinking person's `bridge to the 21st Century.' There is an alternative to rampant inequality and the corruptions of power, and— ever so modestly and persuasively—Daniel Singer points the way.
I can think of no journalist more versed, more hip to what is happening in Europe today than Daniel Singer. His humor and smarts make Whose Millennium? a must read for those who want to know where world politics is heading.
An erudite yet accessible, elegant yet straightforward, inspirational yet practical, sophisticated yet uncynical credo for the next century. Aux armes citoyens.
Daniel Singer is the left's most brilliant arsonist. He sets ablaze whole forests of desiccated cliches about the `end of history' and the `triumph of the market' in order to light the way forward for the next generation of radical thinkers and activists.