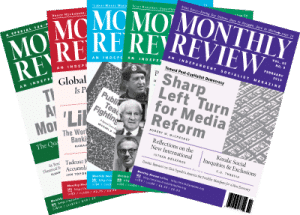 Monthly Review Subscription or Renewal Options
For our entire history, Monthly Review has relied on support from readers, without which we could not exist. As always, the best way to support Monthly Review is by subscribing. There are now four ways to subscribe: an electronic only subscription, with quarterly payments as an MR Associate, with a one-time payment as an MR Associate, or with a basic subscription. MR Associates receive a subscription to the magazine, one free book, and a 50 percent discount on MR Press titles. The MR Associates program is nearly as old as MR itself and crucial to the stability and growth of our organization – we urge you to consider becoming an MR Associate today.
If you have separate shipping and billing addresses, you can enter a distinct shipping address at the cart page. Please make sure to select the appropriate subscription type depending on your location (i.e., select "Rest of the World" if the subscription will be delivered outside of the U.S., Canada or Mexico). If you are renewing a subscription it is fine to purchase a new subscription of any type prior to the expiration of your previous subscription—we will simply extend your current subscription period from its expiration date.
The MR Associate discount does not apply to subscriptions.
Option 1: Online-only Subscription
E-subscriptions provide immediate access to each issue of Monthly Review via our website–that is, on the first of the month, without any delay–and offer an affordable way to support our work. In addition, e-subscribers receive access to the Monthly Review Archives website which contains individually indexed PDF versions of every article published in Monthly Review magazine since its inception in 1949. (Note: A PayPal account is required for an auto-renewing subscription.) Current subscribers can get the most current archive password at the account management page.
Option 2: One-time MR Associate membership payment
US/CAN/Mexico or Rest of the World membership subscriptions.
Option 3: Basic subscription
US/CAN/Mexico or Rest of the World basic subscriptions with either regular or expedited delivery. Please make sure to select the appropriate option depending on your country of residence.
Option 4: Quarterly MR Associate membership pledge
US/CAN/Mexico or Rest of the World membership pledge subscriptions. By authorizing this quarterly charge, you assure Monthly Review a steady flow of income while receiving all the benefits of Associate membership. You can cancel this charge at any time.
Note: All memberships are for one year. The billing cycle and amount are listed for each option below. You must have (or create) a PayPal account for automatic quarterly billing of memberships. For alternate means, please contact us.
Gift subscription
Want to give Monthly Review as a gift? Simply add this item to your cart and specify the name and address of the recipient below.
Institutional Subscriptions
Institutions: Please contact Monthly Review for rates.